File Details

File Size
16.6 MB
License
Freeware
Operating System
Unix, Windows 7/8/10/Vista/XP
Date Added
March 14, 2017
Total Downloads
7,777
Publisher
LoseThos
Homepage
TempleOS
Publisher's Description
TempleOS is an x86_64, multi-tasking, multi-cored, public domain, open source, ring-0-only, single-address-map (identity-mapped), non-networked, PC operating system for recreational programming. It sticks to common, 64-bit hardware instead of distinct drivers because you must shoot-the-moon. Also, redundancy and varied capabilities are unpleasant compared to everybody-has-the-same-thing.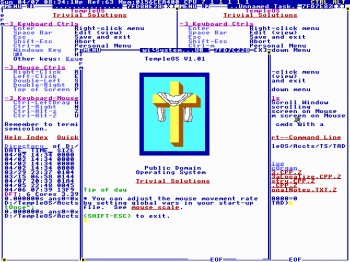 View Full-size
Latest Reviews
ghammer reviewed v5.01 on Jan 11, 2017
Still loving this!
It's grown SO much since the initial releases.
If you like pure programming and seeing how an OS works, give this a try.
roymccoy reviewed v4.06 on May 15, 2016
OMG, it looks like the Vatican got jiggy with Hacker 3.1 on a Ruby shakedown!
Smalltalk oxymoron???

Anyway, I thought this one bought the farm ages ago!? http://www.stooorage.com...0101713_system-info.gif
cyberguy reviewed v4.02 on Jan 29, 2016
Wonderful bit of comp sci geekiness. Love it since I am a very long time comp sci geek. Good to see some grass roots programming still going on.

Also good to see that this has as much in common with any current mainline OS out there as an aardvark has with a rutabaga. I am always a big fan of originality.

Is it simplistic? Sure it is! It is not trying to be a mainstream desktop or mainframe OS. It is simply an OS that a guy wrote in his spare time as an intellectual exercise. And to that I say it is a fine effort.
shroom reviewed v3.09 on Aug 9, 2015
Will I be able to play Half-Life 3 with it?
henrypeck reviewed v3.03 on Feb 13, 2015
Indecipherable. Author must wear an aluminum foil cap.
gsteele reviewed v3.03 on Feb 13, 2015
Absolutely weird.
ghammer reviewed v7.00 on Jan 13, 2011
Most fun I've had with a computer since my Apple II
Nightside reviewed v6.11 on Jun 16, 2010
Totally cool. This is for geeks, not for morons. Go whine somewhere else.
Raton reviewed v6.06 on Apr 25, 2010
Weird and indecipherable. Don't try this at home. Home Planet, that is !
Only illegal aliens -space aliens- know how it works ...even ~they~ can't
run it !

The PC Rat recommends they finish their bottle of Jack Daniels, and go
to bed.

The Computer Rodent
bobad reviewed v5.11 on Aug 5, 2009
Interesting, but weird. Too steep a learning curve for all but a few geeks. Even when you learn it, it's not something you would use every day unless coding is your passion.

The author is obviously talented, and should spend his time helping out on the ReactOS project. At least the end product will be useful to millions of people, not just a few geeks.

4 stars for originality.