Publisher's Description
TeraByte Drive Image Backup and Restore Suite is an affordable and reliable windows image backup and restore software package that is used for backing up all of your hard drive data to other media or external drives (such as eSATA, USB or 1394) and allows you to easily perform a bare-metal restore for efficient disaster recovery. It can also be used for disk to disk cloning and includes scheduling, encryption, and much more.
The key components of the suite are Image for Windows, Image for DOS, Image for Linux and the TeraByte OS Deployment Tool Suite. In particular the OS Deployment Tool can be used to script your image deployment to support different hardware (hardware independent restore).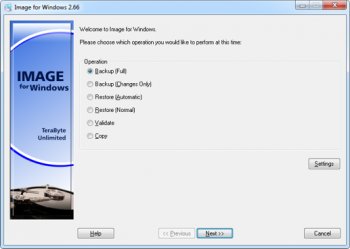 View Full-size
Latest Reviews
Mabelghogue reviewed v3.53 on Jun 29, 2022
Thank you for your post. I was able to get the information I needed on your blog, which has a really appealing design.
Outertech Cacheman
humbleuser reviewed v2.99-00 on Apr 21, 2016
AOMEI one key recovery creates a no fuss system snapshot with a simple 'factory reset' type recovery to your last backup. It's free too.
marty reviewed v2.98 on Dec 15, 2015
Used this for many years. Now use AOEMI Backupper which Betanews doesn't review. It is sulperlative
Uriel reviewed v2.98 on Dec 10, 2015
Great program. In my last review I had installed the simple option instead of the advanced one. The advanced option gives me control again.
Uriel reviewed v2.97c on Aug 4, 2015
Can no longer back up partitions. Must be the whole disk. No archives to go back to either.
some guy reviewed v2.91 on Aug 7, 2014
tried this and would say it fall behind Acronis True Image 2014 &
Clonezilla being my topic
DrTeeth reviewed v2.89 on May 5, 2014
Brilliant backup program and top level support via the NGs or email. For somebody to mark this gem down just because a windows applet fills their needs is madness and just plain ignorant. The program is rick solid and can either be used by novices or the most advanced users.

Minor updates are free and major releases are not released often at all. All the frequent minor updates fix bugs and add new features.

Simply, it is perfect. I have been using it for years - the best safety net I have very bought. I'd give 6* if I could.
Joeslater reviewed v2.82 on May 25, 2013
Thanks for topics
sweathog reviewed v2.82 on May 24, 2013
@ Steve1209
"I'll say the same thing I did last time, why would I pay for IFW when in Win 7 or now Win 8 system also has a FULL back-up and recovery tool is provided with the system software" Because of the IFW features that you apparently don't use or are not interested in but may have value for other PC users. I won't belabor the point, but compression and speed, in particular, are very useful if you use want to use optical drives or less roomy, but faster, SSD drives, to store images. And in a production environment, scripted restoration is far superior for restoring the PCs of novice users who may have no idea how to locate and restore an image file to their PC using the more cumbersome Microsoft Windows method.
Uriel reviewed v2.81 on Apr 22, 2013
I have been using this since I dumped Acronis True Image. I wish I had discovered this program earlier. It has saved my bacon many times over.