File Details

File Size
2.1 MB
License
Freeware
Operating System
Windows (All)
Date Added
May 3, 2022
Total Downloads
42,136
Publisher
SIA Mikrotikls
Homepage
The Dude
Publisher's Description
The Dude network monitor is a new application by MikroTik which can dramatically improve the way you manage your network environment. It will automatically scan all devices within specified subnets, draw and layout a map of your networks, monitor services of your devices and alert you in case some service has problems.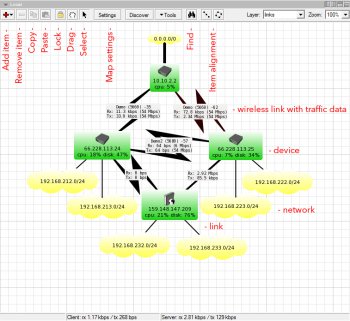 View Full-size
Latest Reviews
Nighted reviewed v3.2 on Apr 7, 2009
This is a great program. I can say that it does everything I need it to do. It really helped my sort out my networking problems when I actually first started caring about networking tasks. Saved me a few headaches for sure.
Yakumo reviewed v3.0 on Dec 6, 2008
06/12/2008, virustotals 38 engines (including nod32, kasp, symantc) believe this build to be problem free.

http://www.virustotal.co...6cdc0a90319006b4e23e3db
argybee reviewed v3.0 RC3 on Sep 15, 2008
Avast! also found embedded rubbish in RC2...
(Win32:Trojan-gen in dude.exe)
A pity as it looks an excellent gadget but because of that (and all the other confirming reports Nod32, AVG) it must get zero stars.... sorry have to be 1.

...hang on...Just checked RC3 and seems clean but will keep an eye on it... these virus reports are too common throughout the history of this software... it will make 5 stars for sure if it stays clear of vir-signs...
fatray reviewed v3.0 RC2 on Sep 10, 2008
Seems to work great, but to run it I need to disable my Anti-virus program.
Yakumo reviewed v3.0 RC1 on Aug 29, 2008
5 for the app (having used earlier betas)

but nod32 reports 'probably a variant of win32/Gentik trojan' about 80% through the download of rc1 from betanews. and terminates the download.
horsecharles reviewed v3.0 Beta 7 on Oct 24, 2007
Crashguy-- you need to sleuth / gather proof... maybe inspect outgoing packets? 'Afore spreading FUD & lowering average rating-- now you'll have to give out four 5 ratings in a row just to raise your average rating above 4.

Your penance for that liberal & conspiracist outburst shall be:
sing O Canada and La Marseillese 4 times each-- then read Solzhenitsyn's Gulag Archipelago.
BudgieCR reviewed v3.0 Beta 4 on Mar 14, 2007
Great program...
Very handy if you operate a network that is spread out.
Discovers 99% of what is on my network, and monitors about 75% of that without any fiddling...

Crashguy: the program tries to determine whether the devices it detects are SMTP servers (which AVG intercepts). It is not sending information... it is trying to determine what is running on the remote computers/etc...
crashguy reviewed v3.0 Beta 2 on Feb 12, 2007
Do not use this program, as soon as i installed in on multiple machines at different locations suddenly the AVG email scanner went mad, there was a large amount of uploading and transfer.

I believe this program is sending the details it discovers.

Do not install!!!
iamalsohere reviewed v3.0 Beta 1 on Feb 1, 2007
Changelog :
*) added TimeLastDown, TimeLastUp variables for services
*) any list/table export to pdf
*) automatic update works in wine environment
*) added builtin funcion string_compare, string_find, string_substring
*) reduced server client network traffic
*) dude agents - add other dude servers as dude agents to reach networks behind
firewalls, offload polling work from server to agents
*) support for snmp v3
DataWeasel reviewed v3.0 Beta 1 on Jan 31, 2007
Great software. Installs smooth, works as advertised. Keep it up.