File Details

File Size
6.4 MB
License
Freeware
Operating System
Windows 7/8/10
Date Added
June 16, 2020
Total Downloads
281
Publisher
NURGO Software
Homepage
TidyTabs
Publisher's Description
TidyTabs is a tool that brings tabbed browsing to all of your programs. Ever wanted to have Chrome-style tabs in Windows Explorer, Microsoft Office or PuTTY? TidyTabs does just that. It integrates nicely with the OS and you will feel like the multi-tab functionality is a core part of Windows. Now that all your windows have a draggable tab, you can easily organize them into logically related groups. Just drag one tab onto another and create a tabbed group. Tabs can be detached from a group and inserted into another one.
TidyTabs will guess by itself that some window types will never need tabs. But if that's not sufficient, you can easily specify which application should have a tabbed shell and which one should not. Two clicks are enough to add an application to the blacklist or to the whitelist. The tabs are hidden automatically when you don't need them, so that they don't get in your way. When they need to be visible, they stay semi-transparent until you actively use them.
The Free version is free for personal use and some features are removed.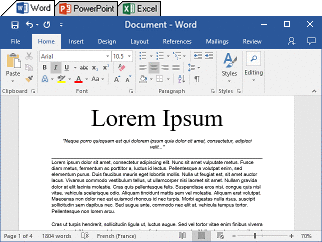 View Full-size
Latest Reviews
breebree reviewed v1.4.0 on May 18, 2019
it works ok.
a few more features in the freeware version are needed.
4 starts -1 star for an almost striped program to lure one into paying for features that should be in the freeware..or they should have a 4.95$ between the full and freeware version
some guy reviewed v1.4.0 on May 18, 2019
pretty handy tool indeed 2 stars removed for false freeware
breebree reviewed v1.4.0 on May 18, 2019
Pros: has a freeware version
basics work fine
Cons: The freeware ver. is very striped of features
Bottom Line: it works ok.
a few more features in the freeware version are needed.
4 starts -1 star for an almost striped program to lure one into paying for features that should be in the freeware..or they should have a 4.95$ between the full and freeware version
some guy reviewed v1.4.0 on May 18, 2019
Pros: pretty good tool
Cons: limitware not freeware
Bottom Line: pretty handy tool indeed 2 stars removed for false freeware