File Details

File Size
11.6 MB
License
Freeware
Operating System
Windows (All)
Date Added
December 23, 2022
Total Downloads
10,505
Publisher
JAM Software
Homepage
TreeSize
Other Versions
Publisher's Description
TreeSize Professional is a powerful and flexible harddisk space manager. Find out which folders are the largest on your drives and recover megabytes on them. TreeSize Professional shows you the size, allocated and wasted space, the number of files, 3D bar and pie charts, the last access date, the file owner, the NTFS compression rate and much more information for several folders or drives you choose. It also lets you search for old, big and temporary files. The application has an intuitive Explorer-like user interface and it is fast and multithreaded. You can print detailed reports or export the collected Data to Excel and to an HTML, XML or ASCII file. TreeSize Professional can be started from the context menu of every folder or drive.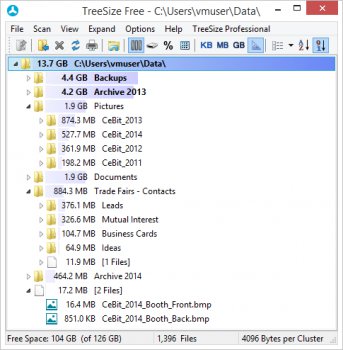 View Full-size
Latest Reviews
smaragdus reviewed v4.0.0.362 on Mar 29, 2017
The abominable ribbon introduced in version 4.0.0.362 destroyed the once great program. Shame on anyone who copycats M$ GUI perversions.
Enlightenment reviewed v3.2.1 on Dec 19, 2014
Though I prefer Q-Dir and xplorer2 lite, I use this sometimes when I want to quickly determine the size of subdirectories.
ballyhairs reviewed v2.3.3 on Jul 9, 2009
Wow.. 2 years no preview? What kind of sofware is this!
bili_39 reviewed v2.3.3 on Jul 9, 2009
Great example of simple and useful software. I'm using it for more than 10 years (at least).
What nags are you speaking of? Only if you scan very large drives it occasionally nags with offer to upgrade.

Keep up a good work.
comeoffit reviewed v1.78 on Aug 10, 2006
give us a break, zridling... as if a dev can't make a living unless they release a freeware version of their application, complete with nags? what complete, non-sequitur nonsense. you make a living by creating a good piece of shareware and selling it, not by putting nags in people's faces.
hunterb reviewed v1.78 on Jun 26, 2006
This program is quite good. very fast (much faster than SpaceMonger) and i have not seen any ads or nags while using it. The only thing i would like to see is the ability to view the [files] count as actual files inside this program (without right click, Explore) - at the end of the day that what i want to know: what is taking up the space in that folder.
zridling reviewed v1.78 on Jun 26, 2006
Yes, but FileForum doesn't make that distinction, does it? Let's all hate every developer who wants to make a living coding rather than work at Wal-Mart. There's a dozen other freeware disk space apps out there that do the same thing or more than this adware version by JAM.
httpd.confused reviewed v1.77 on Nov 15, 2005
Yes, it's adware, and when I first pointed that simple fact out here, my comment was removed completely. But being idiotic enough to put a permanent nag in a "faux freeware" utility is enough to make me avoid all of their products. I believe that if you call something "freeware", you ought to really make it freeware, and leave people the hell alone.
Ulmo reviewed v1.77 on Oct 13, 2005
SpaceMonger is better
zridling reviewed v1.76 on Oct 5, 2005
So it's adware passing itself off as faux freeware. Pay the developer and get the Pro version which is excellent.