File Details

File Size
26.9 MB
License
Adware
Operating System
Windows (All)
Date Added
May 4, 2022
Total Downloads
147,609
Publisher
Cerulean Studios
Homepage
Trillian
Other Versions
Publisher's Description
Trillian is a multi-network chat client that currently supports IRC, AIM, ICQ, MSN, and Yahoo! Messenger. It supports all of the features you've come to expect from a good IM client, including but not limited to docking, multi-line edit boxes, buddy alerts, multiple connections to the same medium, a powerful skinning language, easy importing of your existing contacts, skinnable emoticons, logging, "global" away/invisible features, and a unified contact list. It is completely free with no nag screens or built-in ads.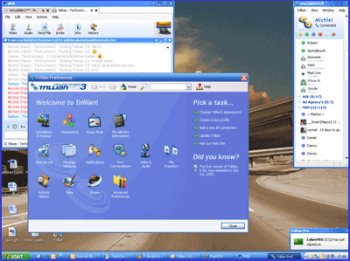 View Full-size
Latest Reviews
-Lord- reviewed v6.2.0.11 on Aug 9, 2019
Pidgin does everything that Trillian does, and it's free with no adware.
This used to be a good piece of software, but they got too ambitious with it.
Sven123456789 reviewed v5.6.0.5 on Dec 21, 2015
Never thought I would be back using this, not that it was a bad software. Just that most old IM's are kaput. I'm using it for facebook im. Facebook gets allot of things right, but the im is pretty lame. I had never used Trillian for FB instant messaging. Wasn't sure if was included. It is included and works well. Other programs like Pidgeon and Miranda don't directly let you access FB im. Though with a ton of bells and whistles u can get it to work. Here with Trillian it was easy and works good.
Infidelus reviewed v5.6.0.5 on May 28, 2015
Not sure what the previous two reviewers' *brief* comments are about. Trillian works fine. Latest update resolves issues various issues:

https://www.trillian.im/changelog/windows/5.6/
FatBastard reviewed v5.6.0.5 on May 28, 2015
Utter Crap!
ZenoLabs reviewed v5.6.0.2 Beta on Apr 16, 2015
Useless
Sven123456789 reviewed v5.5.0.11 Beta on Jul 24, 2014
Still good, but I put this to rest. Since msn msgr is kaput, and I received no Im's from Yahoo, ICQ or AIm for over 5 months, I knew it was time to say goodbye to old school instant messaging. Those were the days...
CJ1981 reviewed v5.4.0.15 on Jan 6, 2014
remember when people used to instant message..? i'd still be using trillian if people still instant messaged.
tomkelly reviewed v5.3.0.16 on Aug 22, 2013
killer tool!
OmAleY reviewed v5.3.0.15b on Apr 11, 2013
Still awesome!!! I use it for Skype, LinkedIN and Twitter.

Great interface for the advanced user.
Sven123456789 reviewed v5.3.0.15 on Feb 28, 2013
Still the best at accessing multiple IM's