File Details

File Size
57.0 MB
License
Shareware, $24.00
Operating System
Windows 7/8/Vista/XP
Date Added
January 16, 2017
Total Downloads
167,944
Publisher
Simply Super Software
Homepage
Trojan Remover
Publisher's Description
Trojan Remover was written to aid in the removal of Trojan Horses when standard anti-virus software has either failed to detect the Trojan Horse or is unable to effectively eliminate it. The majority of Virus and Trojan Scanners are well able to detect malicious Trojan Horses but are not always very efficient in removing them once they have been triggered.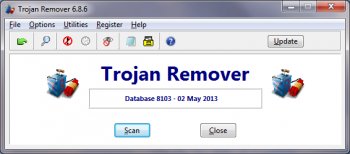 View Full-size
Latest Reviews
CyberDoc999 reviewed v6.9.0 on Jan 17, 2014
a little over rated..... see unhackme for something really cool
Music4Ever reviewed v6.9.0 on Jan 17, 2014
Underrated & well worthwhile having along with an Anti-Malware program & a decent AV.
Music4Ever reviewed v6.8.3 on Mar 6, 2012
I also got a lifetime license for this program some years ago & if a worthwhile addition to layered security.

[Although not connected with TR - There is a free root-kit scanner & remover from Kaspersky (TDSS Killer) that can be helpful in cleaning infected machines or an occasional scan on any PC - It's updated often & informs you when, it's also fully portable]

http://support.kaspersky...solutions?qid=208280684
Mirage_Etoile reviewed v6.8.2 on Dec 31, 2011
I'm very happy I paid for it a lifetime license , it's the perfect program , small , rich of options , updated and powerful .
jspratjr reviewed v6.7.6 on Feb 19, 2009
No problem with scanning speed here (on 3 separate computers).
italyx reviewed v6.7.4 on Nov 10, 2008
True, scanning is very slow, but the program is great, and the memory/registry scan is fast and accurate. It can really save your a**, together with a good antivirus.
gate1975mlm reviewed v6.7.1 on Jul 23, 2008
Trojan Remover is very good softeware for what it does!
BigDick reviewed v6.7.0 on Jul 21, 2008
Quite useless.

Scanning an average partition takes about a whole day.
bellgamin reviewed v6.7.0 on Jun 7, 2008
I have used TR for several years & am very satisfied. Support needs have been rare during that long period of time, and TR's developer has always responded to my messages quickly & effectively.

TR's engine is scrupulously maintained current. Malware signatures are updated very often. TR scans on-demand only, and does it very very fast. I highly recommend TR as an added layer of security.
alshawwa reviewed v6.7.0 on Jun 6, 2008
The best Trojan detector and remover , it deletes the actual Trojan files also deletes any traces and references been installed by the Trojan.