File Details

File Size
0.9 MB
License
Freeware
Operating System
Windows 2000/9x/Server 2003/XP
Date Added
February 25, 2003
Total Downloads
7,293
Publisher
Marko Vodopija
Homepage
Turbo Navigator
Publisher's Description
Turbo Navigator is an advanced, customizable, fast two panel file manager for Windows. Features include file copy speed display, advanced filtering capability, built in favorites for fast directory change, built in file viewer for text, RTF and binary files (including HEX display), built in Media Player for quick preview of common media formats (such as WAV, MID or MP3 files), built in strong (256-bit) file encryption feature, wipe file ability to remove files for good and many more. Modern, self explanatory user interface provides as much information as possible without any need for opening separate window. Its ease of use, small size and speed makes it essential tool for every power user.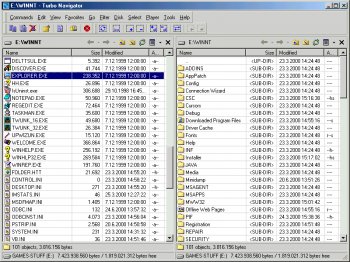 View Full-size
Latest Reviews
tomkaten reviewed v1.47 on Feb 23, 2009
Damn those tabs, wrong place to post lol. Sorry about that guys.

This is a nifty little program as well :)
egg83 reviewed v1.47 on Oct 24, 2007
Has a slight learning curve to figure out features, but once you do, this is one of the best file managers I have ever used. Is very configureable, and lets you perform many file operations (moving, renaming, etc) with ease and comfort. I highly recommend this program.
oompoop reviewed v1.47 on Apr 16, 2006
Windows(All) is wrong for Version 1.47, it's only running with WIN greater than 98!
1.46 fits for 98 and it is a fine proggie!
IMHO you may not say better than TotalCommander, but
it has other options than TC, showing the left place of all directories and it's free, fast and small, fitting as a single file on all CDs I'm burning ...
Very comfortabel to put in the AUTORUN.INF :-)
... and therefore I also give it a FIVE!
yamaneko reviewed v1.47 on Nov 4, 2004
Is version 1.47 real and safe to use?
http://google.us/groups?th=7a29baa78cab1423

I have used TN for years now (latest 1.46), it is best I can find in freeware.
snol reviewed v1.46 on May 10, 2001
kick Ass. Command line parameters are in the readme. If I can figure out the registry crap, then using this and Litestep I will be Explorer-free....
tem0 reviewed v1.42 on Oct 19, 2000
Works very well, although not quite as intuitive as Windows Commander.
snol reviewed v1.31 on Sep 13, 2000
VERY nice, best explorer file browser replacement I've seen - fast, complete, nice selection/move/copy scheme. What it needs: A command line interface (something like /L:path for left panel, /R:path for right panel directory) or some other way of associating itself with folder shortcuts so's you don't need to use explorer at all. This would be great especially for people running Litestep or an alternate shell. The only reason it doesn't get a 5 is that I can't do this.
cylix reviewed v1.3 on Sep 3, 2000
Well designed, fast, small. Not perfect but nearly there. It's one of the best file managers I've used and it's free.
sumstuff reviewed v1.3 on Jul 13, 2000
Great addon to windows,with alot of options and its FREE!! and FAST.
llabaw reviewed v1.3 on Jul 13, 2000
Don't install if you have a registered version of Norton AntiVirus, it installs as a 30day version and over-writes your current version. Very hard to delete/uninstall and also updates Live Up-date to version 6 and say all products a up to date even after you uninstall this beta and reinstall your older version of Norton AntiVirus that doesn't have any newer virus updates.