File Details

File Size
0.1 MB
License
Freeware
Operating System
Windows 7/Vista
Date Added
January 9, 2014
Total Downloads
6,535
Publisher
WinVistaClub
Homepage
Ultimate Windows Tweaker
Other Versions
Publisher's Description
Ultimate Windows Tweaker is a Tweak UI Utility for tweaking and optimizing Windows. It can simply be downloaded and used as a portable application to customize your Windows Vista to meet your requirements. With judicious tweaking, it can make your system faster, more stable, and more secure with just a few mouse clicks. The tweaker detects whether you have IE 7 or IE 8 installed and accordingly offers you the relevant tweaks only.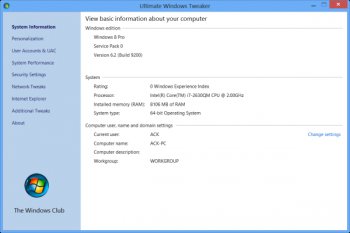 View Full-size
Latest Reviews
CyberDoc999 reviewed vv2.2 on Sep 2, 2015
A real POS will mess up your system
andy2004 reviewed vv2.2 on Jan 11, 2014
Giving it a 1. as i cant actually download the program, I click the link on the right and get redirected to http://www.thewindowsclu...the-windows-club?8c730d, so i click on the same app on there, click on the download button and get redirected back to the above link with nothing downloaded.
pforbes reviewed vv2.2 on Jan 9, 2014
I've downloaded the 2.2 version for Windows 7 and is excellent. I see it is dated 27-01-2011. I wonder if this is really the latest version.
trynow reviewed v2.0 on Jul 20, 2009
Vista SP2 patch tweaks everthing....
roj reviewed v2.0 on Jul 13, 2009
Good Fix - happy now.

FIVE stars.
chrisemersonnc reviewed v1.2 on Jun 15, 2009
I also have the 120dpi truncation problem - very annoying!! :(

Would love to use tool but unusable as-is
roj reviewed v1.2 on May 14, 2009
Does not play nice with Intellitype Pro 6.3 (it crashes it - completely reproducible on Vista64) and does not display properly at 120DPI (left side of display truncated).

THREE stars until the rough edges are cleaned up.
Cris3 reviewed v1.2 on May 14, 2009
It has some great options to choose from and doesn't seem to clash with anything else I have installed on my Vista system.

I particularly like the option for Vista x86 to use 4+ GB of installed ram.
fatray reviewed v1.2 on May 14, 2009
Been looking for something like this since I installed Vista. Works great thanks!
shrink57 reviewed v1.1 on Feb 9, 2009
Most functions work well with Windows 7