File Details

File Size
7.2 MB
License
Shareware, $15.95
Operating System
Windows (All)
Date Added
October 16, 2016
Total Downloads
6,394
Publisher
SWE von Schleusen
Homepage
UltimateZip
Publisher's Description
UltimateZip is an archive utility that features built-in compression support for Zip, Blak Hole, Cabinet, Jar, Lha, GZip, Tar and Tar-GZip archives. It has built-in decompression support for Ace, Arc, Arj, Pak, Rar, Zoo, Zip, Blak Hole, Cabinet, Jar, Lha, GZip, Tar and Tar-GZip archives. It also features built-in support for UUE and XXE encoded files, a zip and mail feature,. multi-disk spanning, archive and file encryption, repair broken Zip archives, a text viewer, archive converter, and more.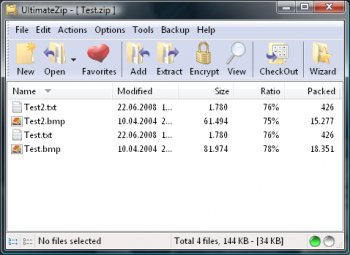 View Full-size
Latest Reviews
TomA102210 reviewed v7.0 on Jan 8, 2014
zandres, et al, you do have to pay for this UltimateZip program after 30 days. I realize reviews are dated. However I wanted to set the record straight that after 30 days, you pay. I noticed at in the February 2013 (I believe) the license was free.
Alexander-GG reviewed v5.0.1 on Aug 27, 2009
@Floodland

It supports 7-zip format very well. You can create and extract 7-zip files. Besides, it's free, but has that annoying nag screen at startup.

Very nice little utility with a nice features. Just 3 stars, because of that nag screen and cause there are some really good absolutely free alternatives.
Floodland reviewed v5.0.1 on Aug 27, 2009
You have to pay for It, but it does not support 7z? Come on!
I suggest 7-zip o peazip instead, you will be able to open any format and compress with a much better compression ratio, for free. As I see it, it has no chance: Less for more ($) is not a good choice.
mdmower reviewed v5.0 on Jul 31, 2009
The interface is extremely similar to WinZip (eerily close in fact), but the price is much more reasonable. Support for all the standards, like ZIP, RAR, ACE, CAB, JAR, LHA, LZH, 7Z and more. Unfortunately, the a comment by a previous poster appears to no longer be true, this software is not free for personal use. (They do have a "Trial Pay" option though, just like WinZip.)
pjb reviewed v5.0 on Jul 31, 2009
Works ok. Seems to be very similar to PowerArchiver!
Especially the second screen-shot http://www.powerarchiver.com/screenshots/
zandres reviewed v4.0.2 on Feb 18, 2009
This is actually freeware for home use. This has been my standard zip
program for several years. It has always been flawless when using
the shell extension within 'file' explorer. Very nice program.

It looks like no one has paid attention to this for a few years. It deserves
a try.
Flebbo reviewed v3.1 on Oct 2, 2006
Love it! It´s like Winrar and Winzip combined together. Perfect for extracting rars and zips.
Z.B. reviewed v3.1 Beta on Sep 19, 2005
I couldn't believe how bad this utility was. The UI is so bad I couldn't even figure out what it did for at least a day. Once I got the hang of it, I found it extremely kludgy. Then could not retrieve 2 out of 5 of my spanned archive files.
kmleow reviewed v3.1 Beta on Jul 12, 2005
Now that this is not free, it has to to compete against WinZip & WinRAR.
Niksa reviewed v3.0 on Mar 4, 2005
This used to be my favorite archiver, but it's now free anymore and there is much better comercial software than this one