File Details

File Size
2.8 MB
License
Freeware
Operating System
Windows (All)
Date Added
February 26, 2020
Total Downloads
45,708
Publisher
UltraVNC Team
Homepage
UltraVNC
Publisher's Description
UltraVNC is an enhanced VNC distribution. It's based on RealVNC, features TightVNC smart cursor handling and encoding, almost all the special functionalities that can be found in eSVNC and Vdacc-VNC, and a lot more.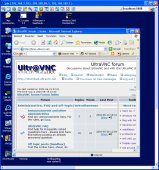 View Full-size
Latest Reviews
some guy reviewed v1.0.9.6.2 on Feb 20, 2012
not a bad remote VNC but not for the novice. Team-viewer has my top pick for it's simplicity.
war593122 reviewed v1.0.9.6 on Apr 5, 2011
**v1.0.9.6
*server site scaling crash server and/or viewer
(This also solve situations where the resolution after reconnect differ
from the original)
* wallpaper fixed (aero/wallpaper +services crash seems also solved)
* options Gui group
* Allowshutdown=0 service problems fixed
* optimized memcpy function 1/1 scaling
* optimized capture functions
* recompiled addons for w2k (kernel pointer error)
* minimize artifacts on window move
* compatibility with other vnc flavors and old ultra versions
* vncviewer -config
ADD
* server systray ( show ip/name/app or service)
* forced reboot
* selectable display ( prim/sec/3the/all) for showing the viewer
* u2 (lzo/jpeg) encoder

Source: http://www.uvnc.com:8080...c/94-ultravnc-1096.html
war593122 reviewed v1.0.9.1 on Nov 8, 2010
Can download @ http://www.uvnc.com:8080...c/90-ultravnc-1091.html

ChangeLog:

Server + Viewer:

Integrated support for SecureVNC plugin.
Fix recursive clipboard issues when several VNC, RDP, VM, etc sessions are nested.
Fix hangs in clipboard handling.
Support for HTML and RTF clipboard formats.
Support for Unicode clipboard text.
Clipboard text is compressed when transferring.
libjpeg library replaced with libjpeg-turbo which includes optimized assembly code for both x86 and x64.
Zlib updated to latest version.
DSM plugins no longer cause the server/viewer to send any additional messages or prefix bytes. This eliminates 41 bytes of network traffic per message.
Immediately subsequent socket writes are coalesced to minimize unnecessary packets. This eliminates 40 bytes of network overhead for most messages, and more in other cases.
RFB 3.8

Viewer only:

Fix crash when changing framebuffer dimensions with cache encoding enabled.
Fix disconnect when changing framebuffer dimensions.
Some menu reorganization.
Throttling for mouse move messages to prevent saturating output buffer with pointer updates.
Queueing implemented for outgoing writes; this eliminates some overhead from every message.
Preemptive update requests.
Enable cache encoding from commandline, /enablecache
Fixed stability issue in Tight encoding (merged from TightVNC)
Fixed recovery / resynchronization attempts in update handler due to bypassing DSM plugin when flushing input buffer, leading to unsynchronized encryption states.
redge reviewed v1.0.8.2 on Dec 8, 2009
bug regression from 1.0.8.1 fixed at vncviewer 1.0.8.2 built 7 december 2009
* minimize restore (show scroll bar) vncviewer
http://www.uvnc.com/download/1082/
thank you very much for the last fix.
redge reviewed v1.0.8.0 on Dec 6, 2009
ultravnc 1.0.8.2 is released at December 6 2009 (20091206)
http://www.uvnc.com/download

** v1.0.8.2 Release
server
*deadlock fixes
*win2003, xp ( all pre vista) fast user and RDP fix
*color error when using the driver in 16bit color mode.
*added multiple monitors for non driver mode
*corrected mouse behaviour with multiple displays
* mirror driver was used on vista>= and color was 8/grey/b&w crash fix

viewer
*listen and add new client fail to connect fixed
*skewed viewer in 254 color mode fixed
*scrollbar and resize fix
*auto mode set to fix color to prevent crash
*write exact error" replaced by "server closed connection
*cancel force socket close
*viewer -listen also remember command lines

installer
*download files uncheck fix

**v1.0.8.1 test
http://www.uvnc.com/download

---------------------------
known limitation 1.0.8.2

* vncviewer autoreconnect commandline blocked on source code with proxy/repeater
%programfiles%\ultravnc\vncviewer.exe -autoreconnect -connect ID:1234 -proxy repeaterhost:5901 -quickoption 3 -dsmplugin SecureVNCPlugin.dsm -listen

* minimize restore (show scroll bar) vncviewer
that not happen all previous version

* wallpaper center
is stretched on viewer disconnect only as system service (like bug of aero before 1.0.8.x)
Defaults settings could have been made better, video driver for improved speed needs a lot of work, lots of keys don't work remotely (not, I'm not talking about Ctrl+Alt+Del), otherwise a very good software.
ron_marz reviewed v1.0.8.0 on Nov 9, 2009
TeamViewer is outstanding, but UltraVNC shouldn't be downgraded because of it. They're both five-star programs.
luluz reviewed v1.0.6.5 on Oct 20, 2009
One of the best remote computing software I've ever used, I really recommend it.
some guy reviewed v1.0.6.4 on Jul 11, 2009
"Registered' great info I like your post and gave team viewer a try good stuff
mjm01010101 reviewed v1.0.6.4 on Jul 10, 2009
** v1.0.6.4 Release
- Gui fix
- FT fix