File Details

File Size
26.8 MB
License
Freeware
Operating System
Windows 7/8/10/Vista/XP
Date Added
December 10, 2020
Total Downloads
11,216
Publisher
Vso-Software
Homepage
VSO Downloader
Publisher's Description
VSO Downloader will download video and audio from thousands of sites with fast download speed. Steaming content is automatically detected and downloaded. Convert videos to several formats including: MP3, AVI, iPad, iPhone, Mp4, H264, Xvid. Download engine is optimized for fast download speeds. It works independently from web browsers, so therefore it works with all of them, Internet Explorer, Firefox, Chrome, Opera, and more. An ad blocker is integrated so that only relevant content is downloaded. A thumbnail preview displays what is being downloaded. Various settings allow you to fine tune the program to fit your needs. Files are smartly renamed or easy organization.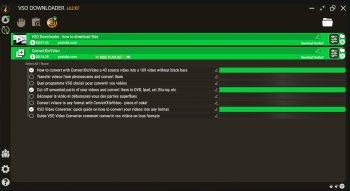 View Full-size
Latest Reviews
CyberDoc999 reviewed v5.0.1.20 on Feb 6, 2017
not free not even close to free

$30 per year

if you buy it then it is great !

1 star if using the free version
oompoop reviewed v4.4.0.8 on Apr 23, 2016
The free " VSO Downloader " loads videos played in your browser automatically.
But those streamed over the RTMP protocol ,
are loaded for non-registered users only 50%.
If you want to enjoy the full comfort,
you must charge (30 euros per year) to
register the ultimate version .
In that case I usually and successfully bypassed
by choosing an different source ;-)
... or maybe the downloadHelper ...
regards
oompoop
DKDude reviewed v4.4.0.8 on Jan 29, 2016
The next major update is going to support SSL/HTTPS, youtube will no longer be a hassle/problem, even more sites is supported, I'm really happy to see you guys picking this program up and placeing it in the toprange again.

With the new v5.0.0XX beta you have restored my faith in this product, yet again it is by far the best out there.

Keep up the good work, and THANK YOU for listening to your customers.

If you have a license for this program, go to the forum and pick up the latest beta, it is a real treat imo.
DKDude reviewed v4.2.6.2 on Feb 12, 2015
Ok, now the Youtube support is almost nonexistent, I have bought the Ultimate version long ago, but this program has been worse and worse.

I'll go and get me a good program, a program that actually works with yourtube, I'm done with this crap.

One of your most dedicated fans has now left the building.
DKDude reviewed v4.2.1.1 on Oct 27, 2014
All one needs to grab videos from all kind of sites.

-2 stars:
If they get the youtube grabbing fixed it will be 5 again.

Other software solutions has no problem with grabbing videos from https://youtube.com , why is it VSODownloader does not work with that site?

Please get that fixed!
DKDude reviewed v4.2.0.7 on Sep 18, 2014
Still the best, if you need all the bells and whistles go ultimate, well worth the money imo.
some guy reviewed v4.1.1.25 on Sep 2, 2014
some files are saves as a .ext extension ! also 20% of the time the file or corrupt and will not open. IDM works much better and is my choice
muller1789 reviewed v4.1.0.18 on Aug 13, 2014
At first sight, that program seemed yet another downloader, but I can say that the oh so classic interface should not discourage you from testing it: results are great.
I have downloaded a significant amount of videos and all went fine.
SgReenFall reviewed v4.1.0.18 on Aug 13, 2014
It's freemium. So you can download most videos without paying. It's faster and more stable than most similar programs I've tried.

The Ultimate version is worth buying it. The YouTube support is second to none.
CyberDoc999 reviewed v4.1.0.18 on Aug 8, 2014
NOT freeware only downloads 50% of the video
1 star for misleading advertisement