File Details

File Size
22.5 MB
License
Open Source
Operating System
Windows 2000/9x/Server 2003/XP
Date Added
March 30, 2009
Total Downloads
10,191
Publisher
followthewatch55
Homepage
Virtual Hypnotist
Publisher's Description
Virtual Hypnotist is a free, open source, interactive hypnosis program. It includes features such as voice recognition, speech synthesis, subliminal messages, completely customizable scripts (featuring a unique scripting language), videos, audio, and lots more. Its purpose is to simulate a real hypnosis session as much as possible.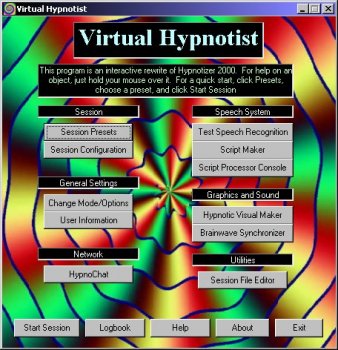 View Full-size
Latest Reviews
tjaym reviewed v5.8 on Jun 25, 2011
Downloaded Virtual Hypnotist and used ti ti hypnotize myself immediately.
Works perfectly for me.
Thank you,
Tom

Where can I find the actual wording on the scripts?
evdeneve reviewed v5.8 on Jul 9, 2010
SOHBET
EVDEN EVE NAKL?YAT
Pretty nice peace of software.
By the way, if anyone is interested in knowing how to hypnotize someone and not just in getting hypnotized, you can visit this page http://www.squidoo.com/how-tohypnotize-someone
MarcD reviewed v5.51 on Sep 2, 2007
Hello,
I've been a practicing hypnotist for over 5 years now. I primarily do comedy and nightclub shows, but will sometimes sponser a "weight-loss" or "stop-smoking" seminar from time to time.
I've tested this software package fro the last 3 months now, and I've had outstanding results with it. I've found it works well when I'm flying or traveling. I simply turn on my laptop, plug in my headset, and run the software. I use it for relaxation, concentration and focus, and confidence and motivation sessions. It'a tool like any other. There are no perfect tools, so don't expect this one to answer all your prayers. But it does do what it says it will do. And it does it well. I have recommended it to several clients and friends. Enjoy the gift that is being offered. All negative posters should get some hypnotherapy and improve their self image and be more positive towards life. Remember...tomorrow you die...now what are you going to do with the time left?!?!
Blackhole8746 reviewed v5.3 on Oct 23, 2005
Great I love this work of art
followthewatch55 reviewed v5.3 RC1 on Sep 18, 2005
This release wasn't supposed to be submitted to Betanews, mainly because it requires 5.2 to be installed in order for it to work at all (that's why the previous person complained haha; I did this in order to keep it small, and it was mainly just intended for members of the program's Yahoo group). I don't know who submitted it.
gawd21 reviewed v5.3 RC1 on Sep 16, 2005
Installed this and on first run it just gave a bunch of errors and wouldn't close until I used Endtask. I then reinstalled it got the same problem again. The creator really needs to go back to the board on this one. I however do like the idea.
amazed128a reviewed v5.2 on Aug 11, 2005
Virtual Hypnotist is the best and most flexible self-hypnosis program ever. No one would say that it is the best possible program, but I would venture to say that it now represents the arrival of software that can be used seriously---maybe WordPerfect would be a good analogy.

The negative reviews here reflect (1)ignorance of hypnosis: if you are not awakened from hypnosis by the hypnotist---in this case, VH---you either fall asleep or wake up by yourself; except in 19th-century horror stories, no one has ever been "stuck" in hypnosis (though many do remain stuck in ignorance); or (2) the misperception---which would seem to indicate very little time spent with the program before writing a review---that the speech synthesis is part of the program itself. It should be obvious to anyone that VH uses various other applications to do what it does, and being freeware itself, it has to rely on other freeware. Freeware speech synthesis is not that well developed---even the AT&T voices that you have to pay upwards of 30 dollars each for are not that great! It takes work---but quite acceptable results can be generated (I tend to prefer the British voices myself).

As to the many bugs, mostly minor, found in earlier versions, most that I'm aware of have been fixed in the latest release, version 5.2.

The most significant lack that needs to be remedied is the sameness of many of the scripts. But I believe that the program now has reached a stage where it will begin to inspire people to fill that gap.
tipsyboy reviewed v5.2 on Aug 9, 2005
So who is going to you wake you up, once this peculiar program has hypnotized you??????????

The mere idea of using a computer to hypnotize people is dangerous and sick.
I'm the author of the program, and just wanted to clear up some stuff (I'm rating it 3 to keep from changing the rating balance). First of all the speech synthesis quality is the best that is currently available for free. It uses Microsoft SAPI4 and SAPI5.1, along with free speech engines. All of the "decent" ones are commercial, so there's nothing I can do (you can use mp3s and text instead of speech if you want). Also as for bugs, a massive amount of bugs were fixed in 5.2, some of which have been lying around for a long time. Just compare this program with the competition ;)

As for tipsyboy (the review above this one), do you know anything about what you're talking about? lol. "So who is going to you wake you up, once this peculiar program has hypnotized you?" - that's basically saying "Who's going to wake a person up if they're daydreaming? oh no!" - you wake up naturally. It's not magic. Read this before making comments like that: http://www.hypnosis.com/trance/hypnofaq.html

As for hkm's comment, I don't ask for money (the program's open-source). Also you don't seem to know what you're talking about either haha (your comments don't even make any sense).