File Details

File Size
0.3 MB
License
Freeware
Operating System
Windows Vista
Date Added
October 25, 2007
Total Downloads
111,678
Publisher
ajua Software
Homepage
VistaTweaker
Publisher's Description
VistaTweaker is a complete tweaking utility designed for windows vista. Has software, performance, usability and other kinds of tweaks to improve the overall Vista experience. It's easy to use and provides descriptions for every tweak and setting. It's currently in development and features are being added over time. It now includes a setup for U3 devices for added convenience.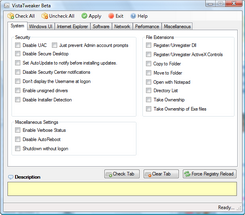 View Full-size
Latest Reviews
olivergiving reviewed v0.5 Beta on Sep 25, 2013
yup
KoJI6a reviewed v0.5 Beta on Aug 1, 2009
?????????. ?????????? ?????? ??? ?????. ??? ??????? ???? ?? ?????? ?? ???, ??? ????? ?? ????????. ? ??? ????? ?????? ????? ?????? ?????????? ?????! It's CooL!!!
trynow reviewed v0.5 Beta on Jul 20, 2009
Put SP2 patch on your Windows Vista Home or others and all parts of Vista tweaks. So you dont need to use tweakers some time loose your original configurations which is MS did.If you have good or very good PC you dont need you need fully updated Windows and added SP1 SP2 and needed System Protection ON. After this you can install your interet security and if you like tweakers but you dont need....SP2 tweaks....
Quim reviewed v0.5 Beta on Jul 5, 2009
I am running Windows 7 RC

I run the program and setup the Automatic Logon but when I click apply I get an error but I click continue anyway.

The settings are not there and the AutomaticLogon does not work.

What I am doing wrong?

Thanks for sharing!

Regards,
Quim
Mike74 reviewed v0.5 Beta on Mar 2, 2008
Okay I have no idea what in the world you guys are talking about when you say "it doesn't work", "the file is corrupt" etc.

First off I'd like to address the user who said that it was corrupt. As here it works for me, I do have a few ideas in mind on why it's not working for you. More then likely your Firewall/AntiVirus is dropping some packets are blocking access to the RAR archive. Some AntiVirus/Firewalls are very sensitive and treat anything that can change system settings as a "Hack Tool" and I've even seen AntiVirus software delete these files.
The other possibility is that your router is blocking IP Address/Dropping packets.
Or it could be your internet connection (such as Wireless interference)

I saw some people who said that it offers little to change or it wasn't as what you are expecting. I'd like to let you know that TweakVista (not to be confused with VistaTweak) and other popular programs don't offer everything that TweakUI had to offer. TweakUI was special in what it could do.
However, I do admit it is "missing" a few things but hey no software is perfect and it looks like the intent of this software is to change system behavior unlike TweakUI which sole purpose was to change how windows looks (e.g. Icons, desktop icons, shortcut arrow, etc all looks).

I like this program because it offers a variety of settings to tweak and change and it small and portable no installation! That means I can store in on my Flash Drive for easy tweaking of settings that my customers want (yes I am a computer technician).
Cris3 reviewed v0.5 Beta on Nov 29, 2007
Disable the UAC nag-ware is the first thing on the list and that earns it a 5.

Note:
It can also be disabled in Run>msconfig>tool tab
softapo7 reviewed v0.3 on Oct 16, 2007
TweakUI DOES work on Vista, at least for me. Use compatibility setting for XP. Vista Tweaker does not work on my laptop, receive error messages on applying tweaks.
JeremyGNJ reviewed v0.3 on Aug 15, 2007
I want to like this program...i really do. There's a big hole with Vista where TweakUI used to be. (very surprised Microsoft hasn't put it out there yet)

However this program seems to miss it's mark, or not be focused or something.

First, any tweak program should *start* by having ALL the features of TweakUI, and add from there. this is missing several of them, such as setting custom locations for "special folders", and hiding drives from explorer.

Here's my short list of things it needs to be on the right track:
1. When program launches, it should check status of each "tweak" and mark check boxes appropriately.
2. Better organization. ie all tweak for explorer in an "explorer tab"
3. Use standard UI elements, for example "Apply, Cancel, Exit" should be at the bottom of the window. And Apply/Cancel should really be Per-tab, to avoid confusion
war593122 reviewed v0.2 on Jul 31, 2007
KingSky, file is fine here. Are you using a download manager? Try without. Or a different browser.

Or better yet try on a different computer.

Coover repair your .net 2.0 install:

http://blogs.msdn.com/as.../2006/05/30/611355.aspx

Before running the tool first try a repair on .net 2.0 via add/remove programs.

Of course assuming you have installed .net 20, if not install it.
KingSky reviewed v0.2 on Jul 30, 2007
The download file is corrupt. I've downloaded it several times and it will not open with WinRAR OR Stuffit.