File Details

File Size
0.6 MB
License
Freeware
Operating System
Windows 2000/9x/Server 2003/XP
Date Added
October 1, 2005
Total Downloads
53,917
Publisher
Forgotten
Homepage
VisualBoy Advance
Other Versions
Publisher's Description
VisualBoy Advance is a Nintendo Gameboy Advance handheld console emulator for Windows.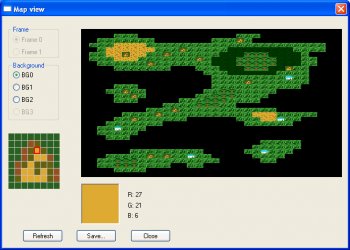 View Full-size
Latest Reviews
cory1492 reviewed v1.8.0 Beta 3 on Dec 14, 2005
Late news, this has been around since october (which was when I grabbed it initialy)
Arieligena reviewed v1.8.0 Beta 3 on Dec 13, 2005
mmm, 1.8 beta (1) is faster and I don't see what's new in beta 3.

aps, what's is the screenshot above? It is not very representative of the program.
ramday reviewed v1.8.0 Beta 3 on Dec 13, 2005
At VisualBoy Advance homepage it states

Saturday, October 1 2005 - Version 1.8.0 beta 3

Was this headline a typo or does the homepage have their dates mixed up?
sigloiv reviewed v1.8.0 Beta 2 on Jan 7, 2005
I second Scorcho's review. I have an ATI Radeon 9600XT and no matter how much I tweak I can't get a good framerate. It says it's constantly running at 98-100% in the corner but it's much too choppy. Frame-skipping doesn't help at all (0, 1, or 2) and all the different rendering modes run just as bad.

It's time to downgrade to 1.7.

But for the record I love this program, there really is no better alternative (besides maybe VBALink but that's based off of VBA anyways).
scorcho reviewed v1.8.0 Beta 2 on Jan 4, 2005
1.8 has been buggy for me, introducing choppy sound playback and stuttering framerates. moving back down to the 1.7.x release solved it though. all in all the best GBA emulator, but it still has some issues.
ArKay74 reviewed v1.8.0 Beta 2 on Jan 3, 2005
Yeah, must be your card, graphics drivers, chipset drivers or whatever. No problems with OpenGL or D3D on my GF4 4200 here.
slimshady165000 reviewed v1.7.1 on Feb 11, 2004
Forgotten moved his homepage to the NGemu networks now....the new address is http://vba.ngemu.com/
nloki reviewed v1.7 on Jan 10, 2004
works great except the openGL video mode... it might just be my video card but when i use the openGL video mode it freezes up after about a minute and becomes unplayable.
my video card... nVidia G4 Ti4200-8X, latest drivers, WinXP... it does however play just fine with Direct3D, so 4 stars.
shaper reviewed v1.7 on Dec 15, 2003
great emulator! Works brilliantly without problems!
uecic reviewed v1.7 Beta 4 on Nov 5, 2003
Hi! This is NOT beta 4 but Beta 3 version. Best GBA emulator.