File Details

File Size
1.7 MB
License
Freeware
Operating System
Windows 2000/XP
Date Added
July 28, 2005
Total Downloads
3,519
Publisher
Finarea SA
Homepage
VoipBuster
Publisher's Description
VoipBuster is a free program to make free phone calls all around the world.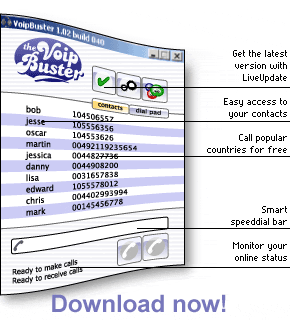 View Full-size
Latest Reviews
statute reviewed v2.06 Build 166 Beta on Jul 19, 2007
voipbuster's service is horrible as well as its customer support! the new jajah-skype service Raketu is way much better...Using voipbuster, i mean not using it because i paid for it and it didn't work. Money refunded? No! With Raketu i had no problem dialing out. The rates are extremely cheap compared to voipbuster and others.. If voipbuster wants to gain more popularity they should take a look at what Raketu is doing. Raketu is emerging as a big competition for many voip companies and not to mention that now they have iptv and video on demand. what application offers it all like raketu?
Nightshade92 reviewed v2.06 Build 166 Beta on Aug 2, 2006
This is an alsome program i recommend it. Its 100% what i was looking for when it comes to free calls
melsi reviewed v2.06 Build 166 Beta on May 15, 2006
I put one star because I can not put -5.

If it ever makes it to start, I will come and give a new rate.

Come on, this program just ..., okay let's be polite.

Why I am so pist off? Voipbuster, does not start, it poses an error "... critical error 3,0 ..." during the starting procedure. On the
FAQs page at voipbuster.com there is a short (when I say short I mean very very short) comment which does not help at all. I have seen many guys facing
the same problem in different forums, but I haven't seen an answer anywhere.

It is the first time I cannot find help for a problem in the internet!!!
Reposed reviewed v2.06 Build 166 Beta on Feb 10, 2006
Works perfectly at home but does not have Skype's ability to get through corporate firewalls. Otherwise, it works well, it's just a pity I can't use it at work.
fatray reviewed v2.06 Build 166 Beta on Feb 1, 2006
Program works great, but this new version has a 10 second time limit. The old release was 1 minuite. I can't use it now to call work and listen to messages unless I pay. That sucks.
matje reviewed v2.06 Build 166 Beta on Aug 11, 2005
I love this program, the first voip program that has realy good sound quality. In comparison with skype-out the calls sounds so much better. Especially when someone puts you on hold and you have to listen to music-onhold the quality is obviously much better. Allthough, after paying 1 Euro a lot of countries are realy free other destinations have also very low callrates. Great stuff!! Definitly a wanna-have and should-have!
waves reviewed v2.06 Build 166 Beta on Aug 10, 2005
don't forget the 1 before the area code. I had trouble with that. Other then that, WOW, FREE after 1 euro...SICK!
jobryan26 reviewed v2.06 Build 166 Beta on Aug 10, 2005
I thought it was pretty cool. I don't have a mic or handset but I called my home and talk to myself through the phone and I could hear myself on the computer really clear. There is a delay but if it is free I could live with that. BTW U.S. country code is +00 since I didn't know and it wasn't on their website. Now I must go and buy a headset cause it will save me and my wife alot of money since all of our family lives over 1000 miles away!

Here is a link to country codes
http://kropla.com/dialcode.htm
yokozuna reviewed v2.06 Build 166 Beta on Aug 10, 2005
I live in Europe and I called my friend from San Francisco last week. I was nicely surprised. The quality of sound was on par with Skype, but without choking which happens when online traffic is congested. Moreover, it was for free. I noticed one thing - Skype needs more RAM memory (24 megabytes vs VoipBuster's 4 megabytes), but VoipBuster, on the other hand, consumes more CPU cycles (around two times more).
gawd21 reviewed v2.06 Build 166 Beta on Aug 10, 2005
This program is not as nice as Skype and it isn't what they say it is. Stay away from it. The only people giving it high ratings are the creators and their friends. 1 minutes phone calls that cut off right after they answer isn't my idea of good, and paying even .005 a cent isn't free. Don't lie.

"BUT: To counter the misuse of our network and to reserve capacity for our genuine testers, we have limited our Free-Calls policy to 1 minute per call. If you want to enjoy UNLIMITED free calls, just register and buy 1 euro worth of credit."

My 30 minutes of use on Skype out cost me less then half a Euro.

Skype is load and clear this is low and hard to hear even with speakers turned all the way up.