File Details

File Size
0.3 MB
License
Freeware
Operating System
Windows (All)
Date Added
March 25, 2013
Total Downloads
9,619
Publisher
Jarle Aase
Homepage
WarFTPD
Publisher's Description
War FTP Daemon is an FTP server that brings together Unix-style security features, a BBS-like Windows interface for the system operator, extreme flexibility, Windows OLE support, multithreading design, and advanced software technology and performance.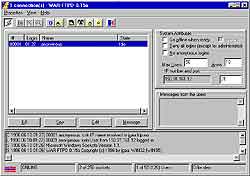 View Full-size
Latest Reviews
boulderdrop reviewed v1.8.2 RC12 on Apr 22, 2008
WarFTPd, wow. That really brings back memories. They are certainly the first to support a web-interface for management; gosh, in 1996 I think! Plus it's FREE.

But, honestly, you get what you pay for; it's been slow to update anything and it's only on v1.8x in a decade.

I'll trust my handy old BPFTP Server, I had to pay for it; but I'll take that over a stale program any day.
phiber0ptik reviewed v1.8.2 RC11 on Sep 22, 2006
Ah! This was my choose for um.. many years ago ;)

This is a review, a short one... try it, you wont regret it.

Old school!
hondaman reviewed v1.8.2 RC11 on Sep 22, 2006
lol, this is still around? Talk about flashbacks!
Howell reviewed v1.8.2 RC10 on Nov 23, 2005
Cyberguy : you give this software a bad notation because is in beta state for 7 years ???

Who cares ????? If it does correctly the job ? (and it does !!!).

Your notation is stupid...
termito reviewed v1.8.2 RC10 on Jul 29, 2005
Note:
- War-ftpd 1.82 RC10 is not beta
- is always the best and high configurable Freeware-FTP-Server
- secure, ... cause jgaa make next day an new release if a security-bug is known
- new Beta-releases will the 1.83 generatation with commin new features http://www.warftp.org/in...cle_id=654&menu=323
kmleow reviewed v1.8.2 RC10 on Jul 26, 2005
Some software have always been in BETA state, not just this software. This website is called BetaNews!

Why do I love this software:

1) WarFTPd is freeware.

2) WarFTPd's user and user group manager is simply the best. It uses TreeView, sorting users in hierarchical manner. It is very easy to know which user belongs to which group/class. I wonder why other FTP products (including shareware ones) do not immitate this.

3) Many people are using dynamic IP addresses; where their IP address changes each time they reconnect to their ISP. Some of these people are behind a router. Let's assume port forwarding has been setup properly.

When a user connects to your External IP address using PASV mode. The router forwards packets to your PC (which has the FTP server installed and running). Your FTP server then NEEDS to know the external IP address so that it can inform this user to connect to that IP.

Most of the expensive enterprise level FTP servers do not have NAT translation. Do not ask me why... They end up returning the LAN IP address to the user. How can you expect that user to connect to this LAN IP?

The cheaper and popular FTP servers such as WarFTPd, FileZilla, RaidenFTP, and a few more... They are capable of identifying the external IP address and returning this information to the user. Good job here. However, their method of identifying external IP address may differ in some ways from one another.

Some of the methods:
a) Connect to the router's status page, eg. 192.168.0.1/status.htm to obtain the external IP. This feature may not work with all routers.
b) Connect to a website on the internet and this website will display the external IP address of the user. This may not be accurate as some ISP use anonymous proxy servers causing the website to display the proxy server's IP address instead.
c) Signup for a dynamic hostname server, such as dyndns.org then tell the FTP server to perform a lookup on this hostname periodically. This may also have the same problems as mentioned under (b).

The above explains how they FIND out the external IP address but NOT how the FTP software USES it.

WarFTPd excels here, when a user outside your LAN connects to your FTP server using PASV mode, it will return the External IP address. When a user within your LAN connects to you instead, WarFTP will return the LAN IP address. You need to configure the "nat.conf" file to make this work.

Other FTP server software will always return the external IP address (Not very smart).
cyberguy reviewed v1.8.2 RC10 on Jul 26, 2005
Can someone tell me if this software has ever been released? Look at his download site! He hasn't released this product since v1.6. 1.7-1.82 are all betas - 7 years of them.

Free or not, if the author does not trust his software enough to release it why should I? Too bad there isn't a '-1' rating.
Metshrine reviewed v1.8.2 RC10 on Jul 26, 2005
I am sorry, but this software has seen better days. Back in the day, yes, it was by far the defacto standard for ftp servers. But now, it lacks several of the new features, simply due to the lack of time from the developer on jgaa.com, such as SFTP support (TLS, SSL (implicit and explicit), Mode Z, etc.

V3.0 was supposedly being worked on back in 1998 when I first got into this, on an entirely new code base, but i guess that got scraped completely. Sad, that a program as promising as this can fall to the way side so easily.

G6 Ftp server 3.6 now has my eye.

Be nice if the author would take the time to reply here, instead of posting a RC that hasnt seen light since the last RC Release several months ago
kmleow reviewed v1.8.2 RC2 on Jan 24, 2004
I can tell you version 1.82 RC2 rocks! Of all FTP daemons, this is by far the best FTP server. In terms of user management, I love the treeview hierarchical groupings of users. You will like it, believe me, especially if you understand how inheritance works. It even works for Dynamic IP users, you can use the nat.conf file (check out their website for more details).
termito reviewed v1.8.2 RC2 on Nov 18, 2003
I use war-ftpd since 2 years. Is a great FTP-Server for Windows. Stable and secure and a lot of features (Admin-Tool, ratio,[$user]-macro!).
War-ftpd is similar how Serv-U 3/4. But war-ftpd is free.
I testet a lot of Ftp-Server and I think war-ftpd is one of the best.
But this Features I missing:
- throttle bandwidth asynchronly (up/down)
- quotas

Deutsche Anleitung
http://www.warftpd.de.vu
http://kickme.to/warftpd