File Details

File Size
27.1 MB
License
Shareware, $74.95
Operating System
Windows (All)
Date Added
August 27, 2018
Total Downloads
6,903
Publisher
Alentum Software Ltd.
Homepage
WebLog Expert
Other Versions
Publisher's Description
WebLog Expert is a powerful access log analyzer. It will give you information about your site's visitors: activity statistics, accessed files, paths through the site, information about referring pages, search engines, browsers, operating systems, and more. The program produces easy-to-read HTML reports that include both text information (tables) and charts.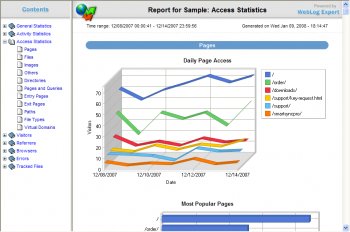 View Full-size
Latest Reviews
balanceinmotion reviewed v8.3 Beta 1 on Sep 24, 2014
4 stars!
mikebratley reviewed v8.3 Beta 1 on Mar 11, 2014
good
chrispaul reviewed v8.3 Beta 1 on Feb 17, 2014
pretty good
gawd21 reviewed v6.4 Beta 1 on Mar 4, 2010
Ummm, yeah, ever heard of cpanel?

Over priced crap!
dataland reviewed v6.2 Beta 1 on Oct 13, 2009
Klaus, I agree with you completely. That's why you should definitely check out Web Log Storming. It's also a log analyzer, but with a twist: you can interactively browse through stats and dig out pretty much anything that you can imagine.
Klaus_1250 reviewed v5.8 Beta 1 on Mar 21, 2009
There used to be a time that this was a great package. Fast and provided basic statistics. But it now has forgotten to evole and still only provides basic functionality which doesn't justify its price. Google Analytics can do so much more and give real insight on what is happening on your website. WLE just provides some graphs and statistics and getting meaningful information out of it is just about impossible.
I had WebTrends on one of my servers. I wanted to upgrade, but they were too costly. Weblog Expert gives me the same results with a very reasonable price. I can automate the analysis, which is very helpful for my stakeholders. Recommended.
billweh reviewed v4.1 Beta 2 on Apr 5, 2007
I've used WebLog expert in the past and I think it's a great tool for the money.

As for it looking like so many other products. Have you ever seen the output from WebTrends? They all pretty much generate the same information in very closely the same way.

Probably because one of the big guys (like WebTrends) does it this way and they want people to be familiar with the data.

Plus - the ribbon graphs are fairly plain - something you can do easily in Excel and most graphic packages throw that in.
irnis reviewed v3.1 Beta 6 on Sep 27, 2004
Simply the Best! :)
Ideal balance between functionality and usability.
ILarry reviewed v3.1 Beta 4 on Aug 16, 2004
It seems that guys from Nihuo copied design and layout of WebLog Expert. WebLog Expert was released much earlier than Nihuo Web Log Analyzer.