File Details

File Size
39.2 MB
License
Shareware, $29.95
Operating System
Windows 2000/9x/Server 2003/XP
Date Added
November 13, 2009
Total Downloads
32,283
Publisher
Webroot Software, Inc.
Homepage
Webroot Spy Sweeper
Publisher's Description
Spy Sweeper detects and completely removes the nastiest spyware out there like Elite Keylogger, LOP, Trojan Backdoor-Haxdoor & iSearchDesktop. Using new FlexDef technology, it impressively identifies and eliminates never-before-seen spyware on the fly - without the need for a specific spyware definition. It is armed with 16 advanced Smart Shields, including ActiveX, Toolbar, and Spy Communications shields to block new spyware installations. Its advanced removal engine deletes the toughest spyware programs in just one sweep - even removing mutated or "rootkit" spies. New user interface enhancements make it even easier to use and it's backed by free expert customer support. So, to protect your PC from spyware, keyloggers, Trojans and other programs, we recommend this effective software.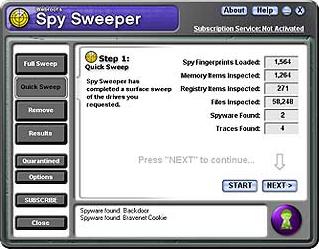 View Full-size
Latest Reviews
ZubeCo reviewed v6.1.0.145 on Nov 26, 2010
Piece-of-Crap... Had the "original" Spy Sweeper installed and ran great. Also ran
AVG concurrently. Between the two of them my PC ALWAYS intercepted a threat. Started receiving "Install NEW bigger, better..." Spy Sweeper popups. Finally succumed and installed. WORST MISTAKE I EVER MADE...! After installation I found that AVG no longer loaded at start up, and have been beset with viruses and malware ever since. System performance is unacceptable also. I have to run MALWAREBYTES to isolate what Webroot, not only allows to infect, but doesnt find when I run a scan. I complained to Webroot and demanded the THEY FIX what they broke. All I received was instructions that I don't understand. Don't waste your money on a product that NO LONGER WORKS...
notorious_rn reviewed v6.1.0.145 on Apr 25, 2010
been using this software for 5 years and it never let me down. not even a problem with malware and viruses.

with regards to its startup it really slows down my computer for a minute but after loading up no problem noted.

for all pc users please take note that every new applications being installed on your computer it will eat up your memory and your processor. upgrade your pc so you could use the full potential of the application you are using.
CyberDoc999 reviewed v6.1.0.128 on May 26, 2009
Bloated and slow.... I have to un-install it just to get my computer running normal...
Zee333 reviewed v5.8.1.47 on Jul 23, 2008
This is a critical update for Windows Vista users, especially those using Service Pack 1 so if you're using an older version, update using the check for updates within the program then go to the browser window that it opens.

this is such an awesome anti spyware.

Also, it does install the Webroot Ask Toolbar, but if you ask not to install it, it wont be installed.

Also there is a way, legally to get this program completly free for 1 year, somewhere on www.webroot.com - although they are not displaying the link on their website, you gota find the link somewhere on Google, when i find it, i'll post
Cris3 reviewed v5.8.1.47 on Jul 22, 2008
The new interface is awesome. This program always worked well for me. It's good at blocking malware and sites without being annoying. I like to run SpywareBlaster 4.1 and Defender with it.

a-squared antimalware has a really good scanner that I like.

Webroot Spy Sweeper is my main line of defense.
pola reviewed v5.5.7.124 on Jan 30, 2008
what a piece of crap this is.after trying an half an hour i cant subscribe.

RUBBISH
Zee333 reviewed v5.5.7.124 on Jan 20, 2008
Possibly the best AntiSpyware out there, also detects Virus and rootkits and many other things. its worth paying for!
Onsoku reviewed v5.5.7.122 on Jan 2, 2008
http://forums.slickdeals...duid=11103&t=698696

...but I'll stick to Spyware Terminator & Avast Home.
zapatero reviewed v5.5.7.103 on Oct 15, 2007
Installs an Ask toolbar without warning, which is difficult to remove.
CyberDoc999 reviewed v5.5.7.48 on Sep 23, 2007
failed to remove spyware!
they make you laugh they make you cry
they make you kiss $30 goodbye!