File Details

File Size
3.7 MB
License
Shareware, $39.95
Operating System
Windows 2000/9x/Server 2003/XP
Date Added
January 20, 2008
Total Downloads
7,329
Publisher
Webroot Software, Inc.
Homepage
Webroot Window Washer
Publisher's Description
Window Washer can automatically clean up your browser's cache, cookies, history, recent document list, and much more. It can run in the background and clean up your tracks when you are done surfing the Internet or any other time you choose.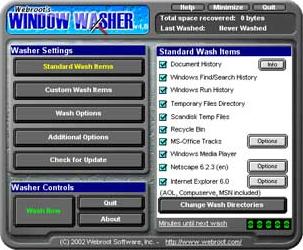 View Full-size
Latest Reviews
frites reviewed v6.5.5.155 on Jun 8, 2008
Its got better but still not as good as East-Tec Eraser 2008. It doesnt have plugins for Utorrent or Frostwire for a start. Free space wipe is great though.
David_2005 reviewed v6.5.5.155 on Jan 23, 2008
best history washing program there is
this and ccleaner are the best out there
i like the way you can add bleaching for added security and you can wash slack space too
it also lets you wash unused areas of your hard drive that may have things left behind
Zee333 reviewed v6.5.5.155 on Jan 22, 2008
Really nice program and as the person below me says, it doesn't look anything like the above screen shot now, it looks so much better.
it has some great and useful features!
Cris3 reviewed v6.5.5.155 on Jan 21, 2008
Windows Washer doesn't look anything like what is shown here, the previous reviews are too old to be valid and the program works just fine.
daze reviewed v6.0.5.409 on May 9, 2005
i used this program back about 5 years ago.. but the god awful interface is still just as bad. Many other programs (even freeware like CCleaner) work in a similar fashion and don't look like an eyesore. Version 5.5 is the last version mentioned on their website.
lion7718 reviewed v5.5.1.273 on Mar 9, 2005
Version 6.0.1.408 has an XP Font Bug...
It changes the way XP looks as soon as program is brought up, you don't even have to run it.
To fix: Control Panel/Display/Appearance/Effects..
Change 'Clear Type' to 'Standard'.
siliconman01 reviewed v5.5.1.273 on Mar 9, 2005
Version 6.0.1.408 is now available.
Inray reviewed v5.5.1.19 on Jul 17, 2004
Comeon Webroot guys. When you gonna fix that silly "close box" bug?
When you will enable international font support to statistics page ? I've reported that and you confirmed it as a bug a year ago...
ssb reviewed v5.5.1.19 on Jun 25, 2004
I think Webroot people do their best to kill a nice utility, actually the first of its kind. They never fix reported and confirmed bugs, nor introduce new features.
siliconman01 reviewed v5.0 on Jun 20, 2004
Window Washer is now at Version 5.5.1.15. Having used WW for 2+ years, I find this program very useful for maintaining my system cleanliness. The interface is relatively simple to use and is straightforward. The flexibility of options is quite good. The ability of customizing what folders to clean out is particularly good.

I keep the WW icon in the systray and routinely select "Wash Now" to clear out Temp files as the day progresses. Scheduling it to run just before my daily full system backup also speeds up the full backup process. I also like the option for cleaning up on system shutdown, although it does require double selection of the Windows command to shutdown or restart- once to start the shutdown/reboot initially and then again after washing by WW is completed.

Technical Support could/should be improved on WebRoot's products. Email response is relatively slow and frequently gives the user no resolution except to wait for the next version release. This drags down my rating of this program.

In summary- reliable; flexible; relatively easy to install/setup; technical support fair/good.