File Details

File Size
66.1 MB
License
Shareware, $74.95
Operating System
Windows (All)
Date Added
February 7, 2020
Total Downloads
24,482
Publisher
Qbik New Zealand Limited
Homepage
WinGate
Publisher's Description
WinGate is a sophisticated internet access control gateway and communications server designed to meet the control, security and communications needs of today's Internet-connected businesses.WinGate's comprehensive range of license options provides you the flexibility to choose the features and capabilities that best match your needs and budget, whether you need to manage an enterprise, small business, or home network.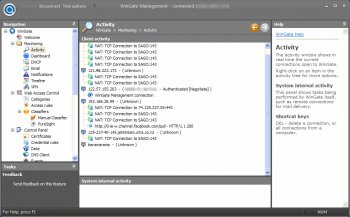 View Full-size
Latest Reviews
CyberDoc999 reviewed v8.5.7.4879 on Apr 13, 2016
about $25 per user min 3 users = 79
CyberDoc999 reviewed v8.1.0.4655 on Mar 9, 2014
it will take you a long time to set this up......
the interface is not good.
bob68 reviewed v7.0.0 Build 3239 Beta on May 31, 2011
That's a very old screenshot above.

Sure you can get a proxy going on linux. Even intercepting one with squid + iptables. If you have a couple years.

But WinGate is a lot more than just a proxy. There's a heap more it can do. I think the previous reviewer never can have looked at 7 at all.

The new policy system is simply awesome. Drag and drop your own decisions. I been waiting for something like this for years (literally - WG6 was 2004)... now I get total control over my policy, plus I see how people get through it (path highlighting) and can close it down. Can set different reject messages depending on what you reject on.

Dashboards are another amazing new feature. You can set up switches which control things in policy - like turn on and off auth or scanning or whatever with a click. Can set permissions on dashboard so I can let my manager see some things and click some buttons but not mess with my config. I haven't played with it heaps but it's pretty cool - even get glass effect on meters, and a dinky 14 segment emulated display.

The other cool thing is the timeline. It shows you a real time moving bar-graph of sites people are on (and for how long). You can scroll back in time to see who was on what site when and for how long (and how much data)... like real time report with history.

Still looking through a bunch but this is first impressions, which is that this is HOT!
stylemessiah reviewed v7.0.0 Build 3239 Beta on May 28, 2011
Used to used this eons ago in the dark ages of dialup.

Then replaced it with a red hat linux box...RH v1...that gives you an idea of how long ago i used it

It was great in its day when it was about the only way to do what it does.

But in todays market its unfortunately and sadly irrelevant software.

A properly configured router or linux box even will do the job with far less tinkering needed on your network.

But it does what it does pretty well, so its a 3
psycros reviewed v6.2.1 Build 1113 on Feb 8, 2007
Wingate does two things that no cheapo router I've ever seen can do: real-time detailed reports of all traffic, and full NAT while still taking advantage of a proxy cache. Its also just about the only way to share a dial-up connection, which is all that many of us can get (don't even mention XP's Internet Connection Sharing..*gag*). The documentation could be better and some functions are rather cryptic to configure (access policies come to mind). But its still the best software routing solution that I've come across, and I've tried most of them.
Serge reviewed v6.0.0.942 Beta 2 on May 27, 2004
The best routing progr, more stable than Kerio WinRoute Firewall. Replace with a simple router? But what about caching web-pages, e-mail server, firewall, protection from viruses, etc.?
H8TEIRIS reviewed v5.0.4 Beta on Apr 14, 2003
Help me out... why do i need this. I can just put 2 nic's I'm my computer and use a little hub and I'm done. Or i can just buy a router.
tony1l reviewed v5.0.4 Beta on Apr 13, 2003
I used Wingate for more than 2 years, it was great for it's time. Unforunately it's easly replaced with a simple 80 dollar DSL/cable router today. That's about 30+ more than their software sells. I must give Wingate a point for it's good customer service though, they always responded to my "questions" email's within 48hours. But I have to subtract a point because it does require that the "Server" computer stay turned on, and routers do not have such a weakness. I had trouble playing internet games with Wingate in certain circumstances while both my computers were playing on the same game server, again a router based solution has fixed all these issues.
james1958 reviewed v5.0 Beta F on Aug 8, 2002
If you are a network admin, then beware.

This will mess your network if you have a Windows 2000 domain.

Installing it on thegateway server to do what it is supposed to do, rendered the entire network unstable.

One thing that I have to give deefield credit for is their professional support and good customer service.

You'll have to install this on your domain controller, and just how many network admins you know that are willing to put their primary domain controllers as the gateway?

To have full control over the clients you'll have to isntall the buggy crap of the client, and good luck after that with trouble shooting the sudden loss of connection to the domain controller and the inability to retrieve/save your roaming profiles.

If you are a home users or have small network with no romain profiles, no domain controller, just peer to peer network, this will work, but it will be an expensive purchase.
mayakovski reviewed v5.0 Beta F on Aug 7, 2002
Not very useful, very unstable, especially under window NT. Save your money and buy an internet router such as an SMC barricade.