File Details

File Size
5.2 MB
License
Shareware, $39.95
Operating System
Windows Server 2003/XP
Date Added
May 7, 2012
Total Downloads
33,377
Publisher
Yamicsoft Software
Homepage
WinXP Manager
Publisher's Description
WinXP Manager is a powerful software tool to tweak, optimize, maintain and tune up your Windows XP, it bundles more than 30 different utilities in one. It will help your system to be stable, fast, secure and personal! For example, get detailed system and hardware information; provide optimization wizard for the user without having any advanced knowledge. Tweak your system to improve windows startup and shutdown speed; tweak your hardware to increase system performance; monitor and free physical memory; disable unnecessary services which start with windows; smartly uninstall programs; Find and clean junk files; searchs your computer for duplicated files; easily checks registry and repairs incorrectly linked registry entries; Defrag Registry to reduce application response time; Control what is started on Windows startup; set context menus of mouse right clicking; customize desktop, menus, toolbar, notifications, logon background settings, change wallpaper automatically; Improve desktop, menus, control panel, windows logon securities, enable numerous hidden performance options, disable system updates and error reports; hide and restrict access to drives, specify which applications are not allowed to be executed, encrypt/decrypt and shred files, camouflage folder to hide its content from Windows Explorer, change the location of system folders; Privacy Protector can maintain your personal privacy by eliminating the tracks that you leave behind. Optimize Internet connection speed, manager your all shares, search and find opened ports; tweak your IE easily; backup all data in Outlook Express; automatically check invalid URLs in your favorites and parse domain name; Message Sender can easily send messages to others. Show the collection of Windows utilities; control your computer when you're not at home; Restrict logging on time of any user accounts. WinXP Manager has a topnotch, easy-to-use user interface that requires no technical knowledge.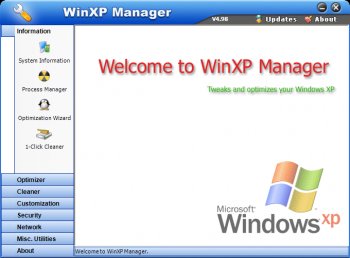 View Full-size
Latest Reviews
mike59 reviewed v7.0.1 on Aug 23, 2010
XP is legacy OS. Get a clue.
Wall of text is LOL
heroes1412 reviewed v6.0.8 on Apr 29, 2010
Software is very power full :D, Nói th?t c?ng ch?ng ra gì l?m ;))
richardcme reviewed v6.0.1 on Jan 20, 2009
My Computer run very slowly. I confused ! why my computer running slowly ? When, I finding solution on internet for fixing this problem; I found WinXP Manager 6.0 software. I purchased this software from "oemsoftwaredownload.com" in cheapest price. I install this software & optimize my System setting's from this software. My PC get fast, clean unwanted programs & safe in minutes without being a Windows expert! WinXP Manager automatically finds the best settings for PC and carefully controls system resources. I thanks to WinXP Manager.
jclifton reviewed v6.0.1 on Jan 5, 2009
I've used this program since version 2 on up to about 50 machines I manage. The only problems I've had have been getting updated serial numbers, and the program author has been both responsive and pleasant. The program has *never* caused a problem. It is frequently updated and the cost is very reasonable. However, since it lets you control infrequently used options, you can change a setting that you then forget about and then scratch your head figuring it out later.

Great program; don't leave or stay home without it.
Tao2005 reviewed v5.2.7 on Aug 9, 2008
Well I agree. China is a respectible country. There are those though, that install other AD programs. You have the right to be cautious.

I still wouldn't use it, xptweaker, or tweakxp. Is enough for me.
krgood reviewed v5.2.0 on Dec 22, 2007
The program author resides/originates in China. What else is installed along with this program? Just being cautious after bad experience with programs of this type/origin.
teranova52 reviewed v5.0.9 on Feb 24, 2007
Great app one of the best EVER ..
its the perfect app for one XP box.

So many and useful tools in one box.
I am using it for over four months, its like a swiss knife !! if you know what you are doing as user !!
CyberDoc999 reviewed v5.0.8 on Feb 4, 2007
I used this on a 4 different XP computers
and now all 4 computers have 2 seperate identical clocks running in the system tray! this is very annoying!
other than that It works fine... But this is a large bug in the program!
nukem reviewed v5.0.5 on Dec 20, 2006
Great app one of the best
glenwood reviewed v5.0.4 on Dec 6, 2006
Used it for a year now. Much better that dreadful System Mechanic 6 and a free Vista update advised when you install.