File Details

File Size
10.1 MB
License
Freeware
Operating System
Windows 2000/Me/Server 2003/Vista/XP
Date Added
January 13, 2010
Total Downloads
23,021
Publisher
Nullsoft
Homepage
Winamp 5
Other Versions
Publisher's Description
Winamp is a fast, flexible, high-fidelity media player for Windows. Winamp supports playback of many audio (MP3, OGG, AAC, WAV, MOD, XM, S3M, IT, MIDI, etc.) and video types (AVI, ASF, MPEG, NSV), custom appearances called skins (supporting both classic Winamp 1.x/2.x skins and Winamp 3 freeform skins), audio visualization and audio effect plug-ins (including two industry dominating visualization plug-ins), an advanced media library, Internet radio and TV support, CD ripping, and CD burning.
The Standard installer includes input, dsp, and vis plugins, but no media library.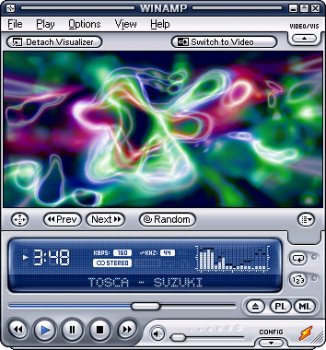 View Full-size
Latest Reviews
Sven123456789 reviewed v5.572 on Nov 21, 2013
Great program. Still the best when it comes to forming music playlist and playing music from your pc or labtop.
Pkshadow reviewed v5.572 on Nov 30, 2010
Well why are we reviewing a Jan 2010 file?
Why when I click D/load do I get a warning from Norton as can see here http://safeweb.norton.co..._emusic-7plus_en-us.exe ?
Why is it I am running a higher version number than this one ?
I think some one should explain this problem !
Virtual_ManPL reviewed v5.572 on Jul 3, 2010
Too bloatware...
They simply choose wrong direction... video player ?

but still 3/5 for many plugins and of course for many awesome skins...

better use AIMP or foobar2000
nugro reviewed v5.572 on Mar 24, 2010
Bloated, phone home, adware ridden, slow, NO TABBED PLAYLIST, ugly and confusing UI (sorry kid, I'm not into flashy neon these days). Sure there are some good points, let's see uh... it play music, and lotsa gimmicky plugin, and um it play video too! eh wait, what software are we talking about again?

No. Thanks.
RADicalSatDude reviewed v5.53 Build 1924 on Mar 31, 2008
All these whiners are spamming the review section, I've been using Winamp since 1997 and have no issues with it till now, FLAC works, everything works fine if your OS is stable.

Only thing I'd like to see is an option to resample to 48,000 KHz or 96,000 KHz and any codec playback support like VLC, right now I use Winamp with FFDShow to attain obscure format playback.

It does what it says on the box!
Sephiroth... reviewed v5.34 Build 1239 Beta on Mar 14, 2008
Totally bloated crap. Aimp and XMplay are much better that this useless, Rotten! piece of garbage.
vcorvinus reviewed v5.34 Build 1195 Beta on Mar 21, 2007
Good but Unicode support is buggy. Using the Winamp Classic, skin will enable it but using the Winamp Modern, will result in "boxes".
And| reviewed v5.34 Build 1178 Beta on Mar 18, 2007
Im happy that standard edition is beeing released again now. I still think its too bloated. These days im toying with the idea to switch either to QMP or Foobar.

Almost 7mb for a player is too much. Version 5.2 was 4.2mb...
marrie reviewed v5.34 Build 1155 Beta on Mar 15, 2007
states flac works. I still cannot get a flac file to play at all. I got one to play once but cannot get it to happen again. the library needs to be mor eaccessible and eaier to use. that has got to be one of the most confusing parts of the software.
Thanks.
high1 reviewed v5.34 Build 1155 Beta on Mar 14, 2007
http://download.nullsoft...p534_1155_beta_full.exe
http://download.nullsoft...mp534_1155_beta_pro.exe
http://download.nullsoft...mp534_1155_beta_std.exe
http://download.nullsoft...p534_1155_beta_lite.exe