File Details

File Size
1.6 MB
License
Freeware
Operating System
Windows 2000/9x/Server 2003/XP
Date Added
April 17, 2003
Total Downloads
81,911
Publisher
Nullsoft
Homepage
Winamp
Other Versions
Publisher's Description
Nullsoft Winamp is a fast, flexible, high-fidelity music player. Winamp supports MP3, CD, Audiosoft, Audio Explosion, MOD, WAV and other audio formats, custom appearances called skins, plus audio visualization and audio effect plug-ins.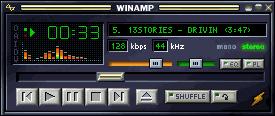 View Full-size
Latest Reviews
stisev reviewed v2.91 on May 8, 2007
v5 is getting more and more bloated.

I have begun boycotting all of the newer versions in protest of

1) continual bloating of winamp -- I mean, really, KISS (keep it simple stupid

2) AOL crap that being bundled with it
Nikkie reviewed v2.91 on Nov 2, 2006
Def. runs faster than later versions and runs smoother than earlier versions..
mrc reviewed v2.91 on Jun 17, 2005
Almost same as i said with acdsee.
This one should be kept at this version :)
Jackrussel reviewed v2.91 on Apr 7, 2005
Perfect for oraganization freaks
Asa Asher reviewed v2.91 on Apr 1, 2005
Its the best player i have ever used. the tagging of music is great and i love that feature in the new version!!
Sobel Dave reviewed v2.91 on Mar 23, 2005
i have over a thousand songs and the playlists work just fine. It's the best mp3 player available.
Kedar Kirti reviewed v2.91 on Mar 22, 2005
Super Fucntionality!! As always Winamp does its best in usabiliti
Mesha Singh reviewed v2.91 on Mar 18, 2005
The feature i use the most is the jump, its great in usability and that's why i like winamp.
odellkevin reviewed v2.91 on Mar 11, 2005
Tried 3.x..sucked! Tried 5.x...not bad, but more than I want. I just want something easy and cool to listen to mp3's. But, I don't use 2.91, I use 2.81, last "good" 2.x version. After 2.81, if you are running WinAmp, and run any program that changes screen resolutions (games, etc), when you exit back to your desktop, WinAmp is in the middle of your screen, it won't stay docked where you left it. This is a bug from 2.82 to 5.02. So, pick your favorite plugins, and run 'em in 2.81.
MadEx2k2 reviewed v2.9 Beta on Mar 21, 2003
Adds most "goodies" (library, and video - as plugins) to the Winamp core we all know and love. Video is useless to me, but I like the library feature. Glad to see they still care about the 2.x version.