File Details

File Size
72.0 MB
License
Shareware, $19.99
Operating System
Windows 10/11
Date Added
December 1, 2022
Total Downloads
346,715
Publisher
Stardock Corp.
Homepage
WindowBlinds
Publisher's Description
WindowBlinds is a program that allows you to completely change the look and feel of Windows to however you want it to look like. It allows you to completely customize your desktop by changing the style of title bars, buttons, and toolbars. You can change the look of buttons and check boxes by assigning them skins, or personalities, and you can assign buttons that will launch programs to toolbars. You can create your own skins, choose from the four that are included in the program, or download additional ones. You can also choose to exclude certain programs from WindowBlinds if you don't want to change their appearances.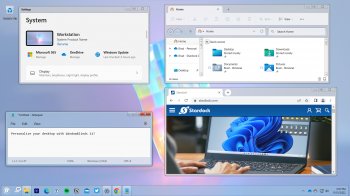 View Full-size
Latest Reviews
krgood reviewed v10.5 on Nov 6, 2016
I also do not use because of the license issue. Having to re buy the program every few months is a real turnoff..Give me the option of upgrading but do not invalidate my current install just because I do not choose to upgrade. Too many Shareware companies are doing this and I just do not go there for that reason. OK Star-dock, what say you??
krgood reviewed v10.07 on Jul 20, 2016
It has some good but having to rebuy the program every few months is a turn off for me. Put it out there and then charge for updates if necessary...but give the option to the user to upgrade or not...
Music4Ever reviewed v8.13 on Oct 19, 2015
Does not work on Windows 10 yet & extremely unwise to try to force it too - Support for Windows 10 on the way.
Music4Ever reviewed v8.09 on Dec 17, 2014
Been totally stable for some years now, no changes in responsiveness of the PC running it whatsoever. Heaps of free skins available which although add no functionality, do make using Windows more enjoyable - A great program.
CyberDoc999 reviewed v8.06 on Aug 24, 2014
I did not like it at all
mikebratley reviewed v8.03 on Mar 11, 2014
5 stars
chrispaul reviewed v8.03 on Feb 17, 2014
really good
Music4Ever reviewed v8.02 on Nov 20, 2013
Brilliant program that never causes me any issues.
olivergiving reviewed v8.01 on Sep 25, 2013
5 stars
tomkelly reviewed v8.0 on Aug 22, 2013
solid program!