Publisher's Description
Windows 10 Codec Pack is a free, easy to install bundle of codecs, filters, and splitters used for playing back movie and music files. After installation you will be able to play 99.9% of files through your media player, along with VCDs, SVCDs, and DVDs.
Additional file associations are applied to make Windows Media Player play BDMV (unencrypted BluRay/AVCHD), EVO (unencrypted HD-DVD), MKV, M2TS, MP4, VOB, OGM, WEBM, FLV, and NUV movie files, as well as AC3, DTS, FLAC, APE, OGG, WV, TTA, OFR, SHN music files, and finally MO3, IT, XM, S3M, MTM, MOD, and UMX tracker audio files. Compression types supported include AVC, H.264, x264, H.263, H.261, DivX, XviD, Flash Video, MJPEG, MPEG4, MPEG2, along with many more.
The package detects the best proof tested settings with additional options for CPU, GPU, and DXVA compatibility. Audio options during install allow users to set output from basic 2.0 channel stereo, right up to 7.1 channel output. Digital audio S/PDIF / HDMI passthrough for home theatre systems can be set by the user to output Dolby Digital AC3, Dolby Digital Plus E-AC3, Dolby TrueHD, DTS, DTS-HD, even multichannel non-AC3/DTS audio (for example 5.1 channel FLAC) can be set to encode as AC3 and output to digital S/PDIF / HDMI.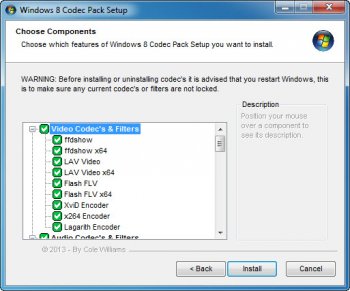 View Full-size
Latest Reviews
ramisthand76 reviewed v2.2.0 on Mar 12, 2022
this is really good, product, i will download and try

https://myfiosgateway.one/
https://tutuappvip.co/mobdro-download
Someone reviewed v on Mar 19, 2023
Pros:
Cons:
Bottom Line:
Someone reviewed v on Jul 5, 2022
Pros: 555
Cons: 555
Bottom Line: 555
ramisthand76 reviewed v2.2.0 on Mar 12, 2022
Pros: good
Cons: really good
Bottom Line: this is really good, product, i will download and try

https://myfiosgateway.one/
https://tutuappvip.co/mobdro-download