File Details

File Size
0.6 MB
License
Open Source
Operating System
Windows 7/8/2000/Server 2003/Vista/XP
Date Added
November 19, 2013
Total Downloads
3,744,120
Publisher
MediaCodec.Org
Homepage
Windows Essentials Codec Pack
Publisher's Description
Windows Essentials Codec Pack is a collection of the most essential Audio and Video DirectShow Codecs and Filters. With Windows Essentials Codec Pack you should be able to play 99% of all movies and music files that you download off the internet, stay up to date with the latest Codecs with the Audio / Video Codec Update Service, and eliminate the many conflicts and error caused by using multiple codecs to decode the same file types.
W.E.C.P. is designed as a user-friendly near complete solution for all your video and audio needs, with it you can play Audio CDs, DVDs, (S)VCDs and XCDs on the fly, and it adds support for 3GP, AAC, AC3, APE, AVI, DivX, 3ivx, DAT, h.264, x264, Nero Digital, DTS, FLV, FLAC, HD-MOV, MPEG-1/2, M4A, MP3, MP4, MO3, MOD, MKV, OFR, TTA, OGG/OGM, S3M, Vorbis, VOB, XviD, XM, WV, UMX and many more formats so you could play any video / audio file with your favorite DirectShow media player or with the (included) free and wonderful Media Player Classic.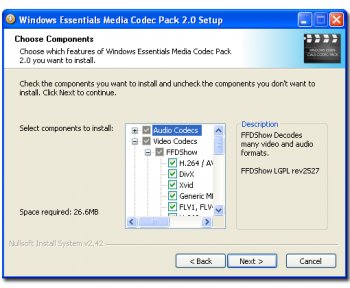 View Full-size
Latest Reviews
mikebray reviewed v4.6 on Mar 12, 2014
good
paulperry reviewed v4.4 on Aug 24, 2013
5 stars
kerimachin reviewed v4.4 on Jul 22, 2013
good stuff
good stuff
sixit reviewed v4.0 on Feb 23, 2012
Beware! Uses a "download manager" that accesses the internet. Allowing this behavior is VERY risky! In fact, using it can violate several federal compliance acts if used in settings subject to SOX, HIPAA, etc.

A legitimate software will give you the option of downloading the entire installation file.

Sorry, adding to my 'potential malware' list.
cindylove141 reviewed v3.6 on Aug 19, 2011
Nice job.This codec pack did a good job in organizing all the codecs.
viperiii reviewed v3.5 on May 14, 2011
FInd the best compatibility with your system and improve the overall playback, i would expect the "real codec" to be included in the future. Nice attempt, keep it up!
trents reviewed v3.2 on Nov 24, 2010
HI,
This could be great and thanks for the information that you shared with us here..
I'm a newbie in this forum site....
trianajenn1234 reviewed v2.3d on Mar 21, 2010
this i a very good 1st attempt
roberttucker reviewed v2.2c on Feb 25, 2009
All stay with VideoLAN Media Player it plays all :)