Publisher's Description
Windows Messenger lets you see when your friends are online and exchange instant messages with them. Send instant messages with cool, new emoticons, call anywhere in the world from your computer, see when someone's typing, page a contact's mobile phone, send pictures and music to your friends, and much more. You can also use this free program to make phone calls, send a message to a pager, trade pictures and music with your friends, and much more.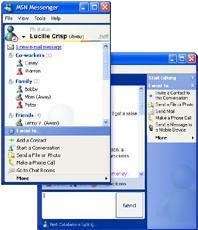 View Full-size
Latest Reviews
photonboy reviewed v5.1.0701 on Oct 27, 2005
Should read this, it is the difference between MSN Messenger and Messenger:
http://www.microsoft.com...CA9E&displaylang=en
It says Messenger is for the Business environment and that consumers (most of us) should use MSN Messenger. However, it is fully compatible with MSN's server as well as it's own so I think I'll use Messenger as I don't like all the extras. I just want a clean interface.
scriptee reviewed v5.1.0680 on May 15, 2005
Better than MSN Messenger by far, but I recommend using GAIM instead.
GoodThings2Life reviewed v5.1.0680 on May 15, 2005
New build provides fixes and enhancements to previous release... continues to work well and do what it's supposed to.

To Adriane79's comment... I suspect that it could be something to do with firewall configurations either on your end or your contact's end. You may want to check those things.
Adrian79 reviewed v5.1.0680 on May 15, 2005
I take back my last comment...since the install the first 5.1 build I have noticed that "appsharing" does not work no more :( I cant help my friends anymore...wtf!! i traced the prog back to this I cant reverse the effects..my only option is to re-install windows!! nooooo!!!
some guy reviewed v5.1.0639 on Mar 27, 2005
should be called msn light, but the feature to share the desktop, as the other guy stated is great for your friends and family members that need help with thir computers
alienvenom reviewed v5.1.0639 on Mar 27, 2005
Unfortunately, Windows Messenger still does not support logging of conversations! MSN Messenger does. I for one would like to see Windows Messenger support this feature because MSN is far too bloated and advertisement-riden for my tastes. However, the new features over the previous Windows Messenger are noticeable and would probaby suit a more corporate environment well, more than what I use it for... just chatting with friends.
GoodThings2Life reviewed v5.1.0639 on Mar 26, 2005
Windows Messenger is intended for use with corporate network communications using Exchange Server 2000's IM component or Live Communication Server, etc etc. It has basic functionality for instant messaging and video/voice, but that's it, because businesses don't need all the fancy icons, bells, whistles, and games that MSN Messenger provides.

Bottom line... it does its job and it does it well. It's a good product for its purpose. If you are a home user looking for a more entertaining client, you should use MSN Messenger 6.2 (or the up-and-coming 7.0)
Adrian79 reviewed v5.1.0639 on Mar 26, 2005
without this program msn messenger is useless, because I use the "app sharing" option....sharing desktops and being able to fix my brothers computer from my house is why "windows" messenger is essiental to your OS ;)

p.s. since betanews did not show us changes, I WILL ;)

--------------------------------------------------------

Overview
Windows Messenger allows real-time communication with other contacts who are using instant messaging (IM) services including those provided by the Session Initiation Protocol (SIP) as offered by Microsoft Office Live Communications Server. Windows Messenger also provides connectivity to the Microsoft .NET Messenger service and is the IM client of choice for businesses in managed environments.

Windows Messenger 5.1 has been updated with changes in the following areas:

* Improvements in file transfer functionality for users with multiple network connections (such as configurations involving both wired and wireless network connections or users of VPN connections).
* Improvements in Tablet PC and laptop support. Specifically, this includes improved support for ink as well as improved performance when using power saving features in portable computers such as standby or hibernation.
* Improvements to presence integration with applications, including better presence integration when applications are in full-screen mode (to avoid unwelcome IM interruptions) and also quicker refresh of presence information in applications such as Microsoft Outlook or Windows SharePoint services.
* Improvements to the sign-in process, enabling a quicker sign in.
psychoactive1 reviewed v5.1.0639 on Mar 26, 2005
Before the natives begin to pummel Messenger into the ground, consider what it is really for. MSN Messenger is a wonderful program, an independent program to communicate with friends, family and such. Windows Messenger is part of the XP operating system. Where it allows many of the same features of the MSN messenger, it's design is to be part of a network infrastructure, and allow communications between members of the same. Its design permits 3rd party modification for the same.

Think of it as Windows Messenger for work, MSN Messenger for play.

Make more sense now?
anti00Zero reviewed v5.1.0639 on Mar 26, 2005
where is my windows messanger in windows xp ?

strange!

oh. it's uninstalled :))))))))

windows messenger is a big s***, because the msn messanger is just better. and when the msn messenger is better then this, the product isn't good.

trillian or other produces are much better.