File Details

File Size
43.6 MB
License
Shareware, $29.95
Operating System
Windows 7/8/10/2000/Vista/XP
Date Added
February 25, 2021
Total Downloads
5,969
Publisher
Winstep Software Technologies
Homepage
Winstep Xtreme
Publisher's Description
Winstep Xtreme is a complete integrated Desktop Environment featuring the next generation of award winning Winstep user interface enhancements: NextSTART and WorkShelf. While most Windows customization software focuses on eye candy, Winstep applications raise the usability bar to another level: they give added functionality to Windows and complete control over every aspect of the user interface. NextSTART is a complete Start Menu, Taskbar and System Tray replacement, famous for its unmatched flexibility. WorkShelf is a desktop replacement and tabbed program launcher. Like a dock, but better. It enables you to organize your most often used applications and documents into categorized shelves while taking as little screen space as possible.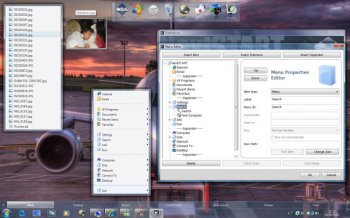 View Full-size
Latest Reviews
spot1701 reviewed v1.0 Beta 4 on Sep 8, 2006
A joy to use. No performace hit.
Easy to use, easy to configure and tweak and creating skins is just simplicity.
I can't remember what my normal windows taskbar and startmenu look like anymore ;)
milo2112 reviewed v1.0 Beta 4 on Sep 7, 2006
First of all, WSX is not a shell, it is an add on for Explorer. If you want a dedicated shell, this is not for you. Second, this is far from being an alpha release! I have run winstep everyday for over 4 years and have never had any major issues.

This app is not for the current generation of users who want effortless satisfaction. This is a hard core organizational tool that takes more than the length of a sit com to master... but it is really worth it. For what its worth, I would spend a lot more for a yearly subscription than what is charged...
BurtPorter111 reviewed v1.0 Beta 3 on Jul 3, 2006
I'll confirm what jcrabbit has to say. I use this on a PII 300 Mhz machine with W2k. Even with extensive transparency, it works very nicely, and without hogging system resources.

gchenry, this product isn't a shell. For me, that's part of the attraction. I can use its improved menuing without having to mess about with an alternative shell. Winstep provides a remarkable degree of customization with a minimum of effort on the user's part. IMHO, you can't say the same about must of the shells out there.
JcRabbit reviewed v1.0 Beta 3 on Jul 2, 2006
igoldsmid, the *apparent* 'performance hit' you are referring to only happens at the beginning when Xtreme is busy accessing the net to get the time and weather information, check for updates, etc... I say *apparent* because it is not actually 'stealing' CPU cycles from other applications, it is just gobbling up all the *available* CPU cycles (different thing). And, as I said, this only happens for a few seconds - you would have noticed this yourself had you not removed it within minutes of installing. :-)

To prove this, Winstep Xtreme is quite snappy on a very old PII 350Mhz machine I have here.
gchenry reviewed v1.0 Beta 3 on Jul 1, 2006
If you are interested in using a shell go to...

shellcity.net

http://shellcity.net/cgi..._search=yes&topic=A
igoldsmid reviewed v1.0 Beta 3 on Jun 30, 2006
Great potential - but very early stage beta.... I removed it witin minutes of installing - huge performance hit even on a very powerful machine... I would class this more like an alpha version
Bagobie reviewed v1.0 Beta 2 on May 6, 2006
Found some minor bugs but the program is damn impressive. Customizes your desktop UI more than I've ever seen... (correct me if I'm wrong)

Deserves a 5 IMO.
the artist reviewed v1.0 Beta 2 on May 5, 2006
hell, this sucessor looks so good! and the apps shown in the ss are nice too...

haven't tried it yet, maybe one of these days...
but i'll give a five just because.

(yes, i fell stupid today :)
JcRabbit reviewed v3.4 Build 229 Beta 7 on Nov 30, 2005
Barin, the reason you couldn't install it is because you failed to read the instructions above :-) : this is a beta and MUST be installed on top of a previous FULL version.

Although skin development for NextSTART is a bit slow these days, there are still THOUSANDS of skins freely available for it online. Also, NextSTART is not about eye-candy, but about FUNCTIONALIY - it's been around and in constant development since 1998 and you won't find anything as powerful as this anywhere.
simko reviewed v3.4 Build 229 Beta 7 on Nov 28, 2005
First of all nextstart is not a shell replacement so comparing it with bbLean for instance is pretty useless.

Anyway i like how it works the broblem for me is that im a skin freak and like it if a skinnable program has a large skinning community and this doesnt have that..