File Details

File Size
72.0 MB
License
Open Source
Operating System
Windows (All)
Date Added
September 8, 2022
Total Downloads
60,042
Publisher
Gerald Combs
Homepage
Wireshark
Other Versions
Publisher's Description
Wireshark is a network protocol analyzer for Unix and Windows. It allows you to examine data from a live network or from a capture file on disk. You can interactively browse the capture data, viewing summary and detail information for each packet. Has several powerful features, including a rich display filter language and the ability to view the reconstructed stream of a TCP session.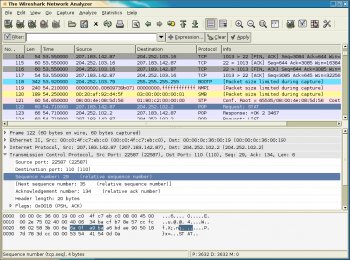 View Full-size
Latest Reviews
some guy reviewed v2.2.0 on Sep 8, 2016
excellent tool to anilize network connection not for the novice
uberfly reviewed v2.0.0 on Dec 3, 2015
Amazing. Free. The gold standard for years.
olivergiving reviewed v1.10.1 on Sep 25, 2013
sweet
Nousheen reviewed v1.8.4 on Nov 29, 2012
Very useful.Thanks for sharing it.
knownware reviewed v1.8.1 on Jul 24, 2012
Very useful for what I do!
Poseidyon reviewed v1.6.0 on Jul 12, 2011
Too useful a break on through in the machine code ,
new WS website sux , true .
64ninjas reviewed v1.1.2 on Jan 16, 2009
excellent program, does what I need and helps me resolve connection issues and more..

UI on this site sucks, if I wanted neowin.net I'd go to neowin.net
war593122 reviewed v1.00 on Apr 30, 2008
"Save maximized sate" is useless. Does nothing! :(

New website sucks!!
war593122 reviewed v0.99.7 on Dec 18, 2007
Wireshark 0.99.7 has been released. Many security-related vulnerabilities have been fixed.

This release improves the privilege separation between the capture code and interface code. It also lets you filter directly on SNMP OIDs, follow UDP streams, and has improved Vista support.
mickrussom reviewed v0.99.6a on Jul 12, 2007
This software is extraordinary. Open-source, free and give you maximum visibility into pcap files, etc.