File Details

File Size
3.7 MB
License
Freeware
Operating System
Windows 7/8/10/Vista/XP
Date Added
February 25, 2021
Total Downloads
4,344
Publisher
WiseCleaner.com
Homepage
Wise Registry Cleaner
Publisher's Description
Wise Registry Cleaner is one of the safest Registry cleaning tools available in the market today. Its scanning engine is thorough, safe and fast.It is so easy to use,even the least experienced user can easily repair registry with this tool.It scans the Windows registry and finds incorrect or obsolete information in the registry. By fixing these obsolete information in Windows registry, your system will can work better and more quickly.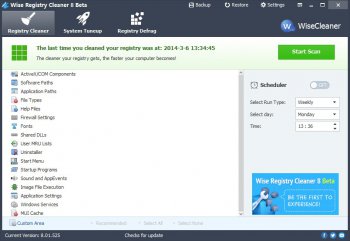 View Full-size
Latest Reviews
Frublo reviewed v10.3.1.690 on Sep 16, 2020
With this program, it is easy to clean the system registry from unnecessary files (garbage). But it can delete important system files. I had to restore them through Uneraser https://www.diskinternals.com/uneraser/ Therefore, I advise you to use the Wise Registry Cleaner carefully.
Vivek Kowshik reviewed v10.1.9.680 on Apr 24, 2019
This software is a part of Wise Care 365, which does a good job of cleaning up most rubbish on a Windows PC. I have been using it for atleast 10 years and never had an instance of it ruining my PC. Those who talk of it being a virus obviously never heard of false positives.
Music4Ever reviewed v9.51 on Oct 11, 2017
If you want to use a registry cleaner this is as good as any. Just scanned installer with Mbam, Zemana & Panda & OK.
CyberDoc999 reviewed v9.16 on May 6, 2016
should be called the PUP malware installer
CyberDoc999 reviewed v8.67 on Aug 17, 2015
ESET Flags this as a PUP... avoid at all costs
Music4Ever reviewed v7.01 Beta on Mar 27, 2012
A very good & very safe reg cleaner, it also allows several optimisations. Brilliant & free.
Input Overload reviewed v6.15 on Sep 4, 2011
How can something totally free ever be a scam. it's not possible. I'm sorry but tests I've conducted Registry Cleaning & defragging DOES make a difference.

Scam:- Intended to deceive.
nilst2006 reviewed v6.15 on Sep 1, 2011
Never (!!!!!) use any registry cleaner, they are scams and most often remove important keys and values in the registry.
oompoop reviewed v5.91 on Jan 16, 2011
Obviously did its job without problems, but today noticed it "calling home".
And so ... bye bye!
boaz reviewed v5.91 on Jan 9, 2011
Like another reviewer mentioned, cleaning the registry usually has very little, if any, effect on speeding up the loading of the operating system. Only clean the registry if you are having problems, otherwise it can create problems. Like the old saying goes... "If it isn't broke, don't fix it".