File Details

File Size
10.9 MB
License
Shareware, $600.00
Operating System
Windows 2000/Server 2003/Vista/XP
Date Added
October 12, 2010
Total Downloads
12,059
Publisher
Zumesoft
Homepage
WordFusion
Publisher's Description
WordFusion is different to other document automation and assembly systems in a number of important ways. WordFusion is an integrated Forms, Document Assembly and Automation Management System. It combines three important components; Forms, Data, Document assembly and Automation. Each of these components is stored in a central repository that can be accessed locally, internally on your network or over the web. User access is centrally controlled by an administrator and workflow can be applied to content creation. These components are the building blocks of dynamic forms and document templates that can used and shared to create a suite of document solutions that remain maintainable and extensible.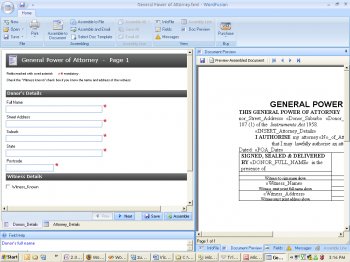 View Full-size
Latest Reviews
BFallen2 reviewed v2.48.1 on Mar 19, 2009
Now supports PDF for assembly and has Popup forms
Jille reviewed v2.48 on Nov 28, 2008
$249 LOL
BFallen2 reviewed v2.46 on Oct 10, 2008
Unfortunately the free version has been discontinued. But the new email integration makes it the most powerful mass mailer available.
billweh reviewed v1.60.1 on Apr 10, 2008
There is a free version and it's been free since July of 2007.

This is a nice tool for creating forms that will allow you to store the data being collected by the forms.

I found it to be more straight forward than InfoPath from MS.
madmike reviewed v1.60.1 on Apr 9, 2008
A must have not least because its free, does what it says on the can and does it well:)
a.aminto reviewed v1.49 Beta on May 15, 2007
The next WordFusion Beta 1.50 will support Windows 2000 - see http://www.zumesoft.com/...-43b2-930a-a84cc86b8530
nilst2006 reviewed v1.48 Beta on May 13, 2007
Poor that it can't be installed on Windows 2000 SP4. Crap !
Junef reviewed vBeta 1.24 on Feb 8, 2007
The scripting makes it very powerful, and I like the look and feel. I can create really professional looking forms and am able to make consitent looking documents without the user having to know our standards.
Loppy reviewed vBeta 1.17 on Jan 28, 2007
You can't compare Abi Word and Open Office - to WordFusion as they are two different products, the last review missed the point. The core of WordFusion is the Forms development, it is not meant to be a wordprocessor. As for Bloated - it has loads of features including .net script capability. You would still use Abi Word,Open Office or MS Word aswell.
BFallen2 reviewed vBeta 1.14 on Jan 19, 2007
Actually there will be a free edition on release. The Free edition will allow you to use the forms functionality. To design forms you will need a design studio license. This means that if you want to use the forms in your organisation you don't need to buy a license for every workstation, which could be a massive saving.