File Details

File Size
3.2 MB
License
Shareware, $35.00
Operating System
Windows 2000/9x/Server 2003/XP
Date Added
February 17, 2007
Total Downloads
3,788
Publisher
BlackSun Software
Homepage
X-Fonter
Publisher's Description
X-Fonter is a user friendly font viewer, font manager, and 3D graphic creator. It allows you to make nice 3D Graphics that you can use for your Webpages, emails, and much more.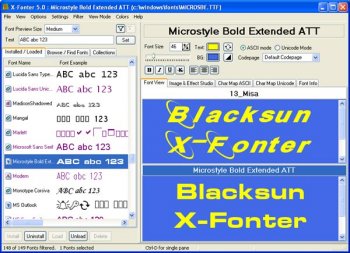 View Full-size
Latest Reviews
Skantow reviewed v6.2 on Sep 11, 2007
Error installing on Vista Ultimate.

(Rating only given to satisfy posting this, I would otherwise not have given a rating)
zridling reviewed v6.2 on Feb 20, 2007
Works great in Vista, too.
alexius2 reviewed v6.2 Beta on Oct 25, 2006
Some Guy, X-Fonter is a font manager and not an image tool and it should be reviewed as a font manager. So your score is really irrelevant.

X-Fonter is a top-notch font manager that does what it needs to do. Even the image tool is fun to play with.
some guy reviewed v6.2 Beta on Oct 11, 2006
makes a good font viewer, as far as a graphic creator not impressed, their are free programs that do a much better job.
zridling reviewed v6.1 on Aug 23, 2006
I'm not sure what small bugs were in 6.0, because I've yet to have any problems with it, and I use the program almost daily. The database change does speed up font display, especially of OpenType fonts. However, I'll have to respectfully disagree with Pater below, as I don't have the same experience with X-Fonter as he had. Much of X-Fonter's layout is customizable, so unclutter it. But a font manager is built to provide every bit of information you need for each installed font. And I've never experience anything slow with X-Fonter. Ever.
pater reviewed v6.0 on Jul 22, 2006
X-fonter is a well-featured and stable font program. Version 6 is significantly improved. To my mind the interface remains too busy, which is perhaps inevitable when so much is squeezed into the program (e.g., do I really need an image and effect studio in a font manager?). Other niggles include a clumsy zoom on the character map; a very limited help index and sluggish font collections.
zridling reviewed v6.0 RC4 on May 17, 2006
X-Fonter continues to set the standard in font management. Version 6.x not only is superfast, but expands user customization options and control over printing, reporting, and search. The autoscroll with mousewheel is a nice touch. Move, copy, zip, rename, even I'm impressed!
______________
[re stewcam]: Oh yeah, I hate it when the developer informs you how to contact them — that's a big problem. NOT! Jeez. Starts fine on my system, in less than one second.
stewcam reviewed v5.5 on Mar 13, 2006
Full of functionality but irritatingly slow to start. Also one of the annoying bunch of shareware programs that display the owner's address and e-mail address in the about box (no, thank you!).
zridling reviewed v5.2 on Jun 11, 2005
Filter options are highly convenient and a great usability addition to an already solid, well-rounded font utility.
zridling reviewed v5.0 on Jan 7, 2005
With this version, X-Fonter is now setting the standard for versatility, utility, and features. Well worth purchase, since you won't need to look elsewhere.