File Details

File Size
0.7 MB
License
Freeware
Operating System
Windows 2000/Server 2003/XP
Date Added
August 14, 2009
Total Downloads
17,012
Publisher
Xtort
Homepage
XP SysPad
Publisher's Description
XP SysPad is a Windows system monitoring utility that allows easy access to Windows system information and Windows system utilities, such as the individual control panel applets, as well as putting the "hidden" applications in Windows at your fingertips.
With XP SysPad, you can easily access hundreds of Windows operating system utilities and system monitoring information. You can also recover your Windows 2000/XP product key, get your IP address, execute web queries, monitor any running system process, launch any program, search files, and more. For convenience, it also can minimize itself to the system tray. XP SysPad has well over 250 functions in all.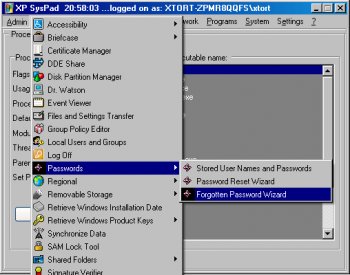 View Full-size
Latest Reviews
-= Mancubus =- reviewed v7.9 on Jul 13, 2007
Just an excellent program!
What I don't like is it's icon. It's blurry and... well, ugly!

But it's only an icon! :-)
PRoBiSoNe reviewed v7.9 on Jul 5, 2007
WOW! ...did they forget anything? There is full featured software, and then there is FULL FEATURED SOFTWARE!!! LoL

I, like the other guy, prefer the 'Run' dialog (WinKey+R) as it is faster if you know the command(s). But if you don't, or need to access multiple items on your system from one spot, this is your app!

Indeed there needs to be a little work on the interface, but if the GUI doesn't bother you, then I highly recommend this.

P.S. there are links in this software that will take you to places in your OS where you could do some serious damage if you don't know what your doing. Use with caution if you are a neophyte. :)
Dunkinman reviewed v7.9 on Jul 5, 2007
I have never sent in a review of software that I had download from this site but this program ROCKS!

thanks
horsecharles reviewed v7.9 on Jul 3, 2007
I can't wait for VisPad!!!!!!!!!!
zridling reviewed v7.7 on Dec 15, 2006
Dropdead excellent! And the xtort.net website has a lot of great freeware apps and links.
mmebane reviewed v7.6 on Oct 24, 2006
I cannot for the life of me figure out how to get the multi-columned look like in the screenshot. In addition, the process viewer pane does not resize with the window, which is quite annoying. Otherwise, not a bad little piece of software.
phiber0ptik reviewed v7.6 on Oct 24, 2006
I gave this a try and... um, well nouse for me, I still prefer "Run..." :D BUT I am sure it is a great tool for many others! So a 4 from me, -1 for the GUI... there is so many "shortcuts" its hard to navigate ;) But those who use it will probably learn where to find a certain "shortcut" pretty fast. Other than that, it does what its suppose todo ;p
ZenoLabs reviewed v7.2 on Jun 7, 2006
Absolutely cool O___o
mjm01010101 reviewed v7.2 on Jun 7, 2006
chkdsk doesn't work. perhaps it needs command line arguments?
zridling reviewed v7.2 on Jun 7, 2006
If Xtort is able to do this same thing with Vista someday, he'll gain hero status. XP SysPad does all the menu drilling and mining for you when you're looking for that "thing" that you don't remember what it's called or where it's found.