File Details

File Size
26.0 MB
License
Shareware, $19.95
Operating System
Linux, Mac, Windows 7/8/Home Server/Vista/XP
Date Added
October 22, 2015
Total Downloads
2,425
Publisher
Felenasoft Company
Homepage
Xeoma
Other Versions
Publisher's Description
Xeoma is a complete video surveillance solution for both Windows and Linux-based systems and Macintosh computers. It supports an extremely wide variety of digital video cameras including wireless cameras, regular USB web cameras and IP cameras. It is a unique solution in that it provides one of the most user-friendly and intuitive ways of configuring a complete video surveillance system in either the home or the work place.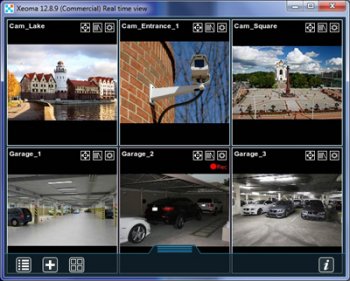 View Full-size
Latest Reviews
Mike85 reviewed v14.1.20 Beta on Feb 13, 2014
Nice program! Lego-like interface. Raely simple one, even a child can cope with it. Bought 10 licenses and can say that it worth it.
barrytbutler reviewed v14.1.20 Beta on Jan 29, 2014
3.5 stars for this
cain reviewed v13.9.30 on Oct 21, 2013
I recently purchased a couple of IP cameras online and found the inbuilt software buggy and unreliable. Sometimes settings would work, other times they would fail. After searching for a better alternative I eventually came across Xeoma. It's a stand-out Application. Right away, I was pretty impressed by Xeoma. It automatically searches the network for cameras, even the webcam was recognized as a video stream.
Setup was painless. I found it quick and easy to create record schedules. The motion detection works really great with areas that trigger emails, and it has a time delay feature which records a period before an event occurs as well as the event, and the sensitivity level is customizable, (so you don't get an email every time the cat walks past the camera!). I love that I can access my cameras at home while I am at work. I found it easy to use and am overall pretty impressed with it.
I haven't yet played with some of the features like SMS notifications and setting access restrictions, but I like that it has those functions ready for when I get around to setting it up.
Another point worth a mention is the interface. It's pretty impressive, in one word 'Sleek!'.
I highly recommend it. If you're looking for a surveillance application, give it a try, it cross platform compatible with Windows, Mac and Linux, and its well-priced.
fred1982 reviewed v13.9.30 on Oct 2, 2013
xemoa keeps crashing and wasn't working at all with my set of cameras on windows 7. The only camera I have managed to connect keeps crashing the software after a few minutes. I've spent a lot of time trying to figure it out without success and am very disapointed about this product.
Smile MC reviewed v13.7.4 on Sep 16, 2013
Still not perfect, many things need to be improved in my opinion, but on the overall, great stuff. I use it to monitor my house and the parking lot. It is very affordable, and for its price it's more than good software.
Helen45 reviewed v13.7.4 on Aug 11, 2013
So glad I found this great program! I tried several others, but Xeoma beat them all (well, there are some equally great ones like Zoneminder, iSpy etc, but Xeoma has one important pro – AFFORDABLE PRICE!) Detects motion perfectly, automatically searches for cameras at start, loop recording. There are also several modes. You can easily use Xeoma for free.
delisious reviewed v13.7.4 on Jul 31, 2013
Works good with 32 cameras (Axis M2014-E) on Ubuntu 13.04. Great support team: helped me to reduce the CPU load right by my request.
IvanIV reviewed v13.7.4 on Jul 30, 2013
At first, I was a little bit surprised with the look of the software. More like a game at a glance. But, wow, so powerful and functional at the same time! I like the way they have combined the modules into some functional groups. It is easy to find and understand where different features can be found. No manual needed. It is definitely a con. Some features need improvement in my opinion though. Like it would be nice to be able to rotate the camera images in the main screen. But it , surely, doesn't make the software bad or weak, just we all aim for perfection ?
Koldobov007 reviewed v13.7.4 on Jul 29, 2013
Love this software. I'm a user for around 3 months already, and I like the fact that it is constantly developing and changing for the best. They also are pretty attentive to their customers (I mean the developers, or the support, whatever). You know, I that kind of guy, who writes and calls the support whenever he has a question (yes, I'm such a dreary nerd ))) and they always reply with a thorough reply fast enough. I think it is a good thing. Apart from the fact that the program is truly good.
JosephFirst reviewed v13.7.4 on Jul 25, 2013
Xeoma have amazing functions : remote access, motion detector, cloud service, password security, record sound, hidden mode and many more which you can use for free! You can also buy a lisence if you feel like you need it. But it is a good way to test.