Publisher's Description
YAC (also known as Yet Another Cleaner/YAC PC Cleaner) is an excellent software for PC maintenance and optimization. It is a rich suite of tools which is free and multilingual. This small utility can quickly and effectively scan and fix your PC, and purge it of annoying or dangerous malware, adware, cookies and browser plug-ins. It also checks and optimizes the Registry for faster startups and smoother overall operation, and frees storage space by removing seldom-used applications. Easy to use: provides user-friendly and modern-looking UI leading to a smooth operation. After a quick installation, YAC assesses the health of your PC and allows you to fix detected issues with a single click. Fast operation: rapidly scans and repairs your PC to protect it from a wide range of threats. Ad Block -- When you surf internet, you may see annoying advertisements. The Ad block function provided in YAC can help you get rid of all annoying advertisement, and provide you with a clean and pure on-line surfing experience. More powerful premium features -- A premium version is a paid one, offering you a better Anti-malware protection service, as well as a more customized user experience. By using YAC, you can remove browser hijackers, and configure homepage settings and search settings. In the "Home" tab, you can implement analysis for fast optimization of your PC, enable and disable home page protection, and speed up your computer. With YAC, you can simply detect the virus and adware in the function tabs "Virus Detection" and "Adware Cleanup". Examining any installed plugins and detecting any potentially dangerous or malicious apps, YAC helps you remove them as required. The System Boost option can speed up your PC through optimization of the processes running automatically in Windows startup, as well as memory adjustment and Internet connection settings.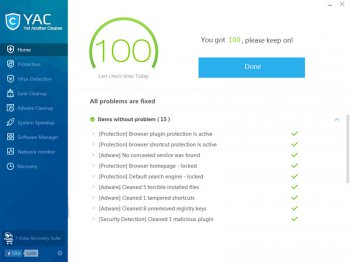 View Full-size
Latest Reviews
Music4Ever reviewed v6.6.206 on Jun 2, 2016
Malware - Blocked by ESET - Beware
Ramp4me reviewed v5.6.81 on Mar 14, 2015
The following users are all from the same author, the thief that wrote this malware. He probably created many more accounts on- or after Dec. 1 2014

- Toshiba.Q
- Ygritte
- Nucky
Fluffy78 reviewed v5.6.81 on Mar 4, 2015
DO NOT INSTALL !!!

THIS MALWARE WAS CREATED TO STEAL YOUR PASSWORDS !!!!
ChipChop reviewed v5.6.81 on Mar 4, 2015
Stolen from Malwarebytes.com !!!!!!!

These people are crooks & thieves.

https://blog.malwarebyte...ner-yet-another-stealer/
Toshiba.Q reviewed v5.6.81 on Dec 1, 2014
Free
Ygritte reviewed v5.6.81 on Dec 1, 2014
Thank god! I finally get the Botcrawl craps out of my computer!
Nucky reviewed v5.6.81 on Dec 1, 2014
Help me deal with troubles
Vivalavida reviewed v5.6.81 on Dec 1, 2014
As it is used to be, very efficient and effective. Eliminating all virus and other god-damn rogues!
Woha reviewed v5.6.81 on Dec 1, 2014
Nice
Tom Vercetti reviewed v5.6.81 on Dec 1, 2014
I used to install a rogue software called SpyHunter. I tried everything to get rid of this but failed. My friend introducd YAC to me and it is perfect. It weep out the SpyHunter craps in a minute.