File Details

File Size
0.7 MB
License
Open Source
Operating System
Windows 2000/9x/Server 2003/XP
Date Added
March 10, 2009
Total Downloads
28,658
Publisher
Anuj Seth & K Shyam
Homepage
YPOPs!
Other Versions
Publisher's Description
YPOPs! is an open-source initiative to provide free POP3 access to your Yahoo! Mail account. It emulates a POP3 server and enables popular email clients like Outlook, Netscape, Eudora, Mozilla, etc. to download email from Yahoo! accounts. It provides a POP3 server interface at one end to talk to email clients and an HTTP client (browser) interface at the other which allows it to talk to Yahoo.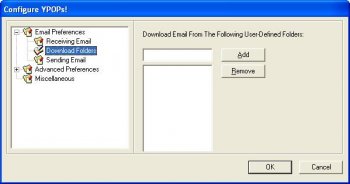 View Full-size
Latest Reviews
coover reviewed v0.9.7.3 on Mar 18, 2009
Yahoo is, of course, aware of this software and is able to react quickly to any changes that allow it to actually work. With this new version, I was able to use it once before it refused to download email. Surprisingly, I am still able to send using (in my case) Outlook 2003).

I certainly cannot blame Yahoo for blocking YPOPs from working. They lose profit for each user that is able to do so...but there are other free webmail providers that do allow free POP3 access, including GMail.
Fallenhorsemen reviewed v0.9.6 Alpha 1 on Apr 11, 2008
This is a great piece of software. I have only been using it for a couple of months. The version I'm using is 0.9.5.3

I am able to send and receive email from my yahoo.com account with this version. I also did not switch to the newer interface for yahoo a few months back because I did not like it. Since I am not as computer literate as a lot of you I guess I will not be changing to YPOP's newest version. You know it's the old (if it's not broke don't fix it thing)

I'm afraid if I switch to the newer version of YPOP's I will start having the problems of sending mail like everyone else is having. I know this is not much help I just wanted people to know that this is a great piece of software and I sure hope that the bugs get worked out for everyone.

I would also say that this is a piece of software that when it is stable enough for the average (dumb) user like myself I would have no problem paying for it if it came to that. Keep up the good work and I hope you can get it all figured out.
DebugMe reviewed v0.9.6 Alpha 1 on Apr 11, 2008
Ehh? Gmail has pop 4 free - why use yahoo?
Umapathy reviewed v0.9.6 Alpha 1 on Apr 10, 2008
Definitely is a best software. I have used this before that can able to bypass the proxy setting where the POP and SMTP ports are blocked. If there are not blocked have a look at my googlepages namely http://tamilgnu.googlepages.com/yahoo!mail probably should help as well.
tangojoker reviewed v0.9.6 Alpha 1 on Apr 10, 2008
Been using this close to 5 years.
i have stuck to yahoo just because of this tool.
kraftworkz reviewed v0.9.6 Alpha 1 on Apr 10, 2008
Been using this App for about 4 years and it has worked flawlessly. Updates are prompt, whenever Yahoo makes changes. I recommend this App to all my friends, family and co-workers.
alohanela reviewed v0.9.5.3 on Jan 31, 2008
I have been using this program for years with my Outlook and it has NEVER failed.

Keep up the great job!
Adrian79 reviewed v0.9.5.3 on Jan 30, 2008
lol@ guy below paying yahoo for what other webmail does for free.
seier reviewed v0.9.5.1 on Sep 5, 2007
When this works it works great. However, it breaks about every 2-3 months and then doesn't work for at least 2 weeks (when Yahoo changes their pages). It was such a hassle to hack POP3 access from Yahoo that I have gladly paid for Yahoo Mail Plus for the past two years. E-mail is just too mission critical to not have a patch turn around time measured in hours.
VictorAnderson reviewed v0.9.5.1 on Sep 5, 2007
I rarely give ANYTHING a 5 out here, but this one has earned it.
Works perfectly, good documentation and instructions, simple to setup.
Good job to the developers!