File Details

File Size
1.8 MB
License
Open Source
Operating System
Windows (All)
Date Added
February 26, 2021
Total Downloads
44,005
Publisher
Pen Drive Linux
Homepage
YUMI
Publisher's Description
YUMI (Your Universal Multiboot Installer), is the successor to MultibootISOs. It can be used to create a Multiboot USB Flash Drive containing multiple operating systems, antivirus utilities, disc cloning, diagnostic tools, and more. Contrary to MultiBootISO's which used grub to boot ISO files directly from USB, YUMI uses syslinux to boot extracted distributions stored on the USB device, and reverts to using grub to Boot Multiple ISO files from USB, if necessary.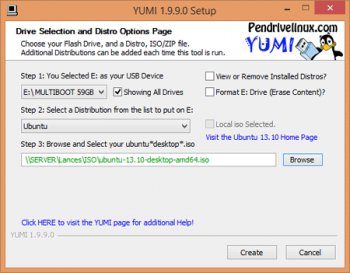 View Full-size
Latest Reviews
methuselah reviewed v2.0.2.0 on Dec 30, 2015
Been using it for years, wish all software worked this well!
some guy reviewed v2.0.1.8 on Oct 27, 2015
fantastic multi boot install tool the only complaint is if more then one windows instalation is installed they seem to conflict with one another during the installation
some guy reviewed v2.0.1.6 on Mar 18, 2015
best in it's class period !
nilst2006 reviewed v2.0.0.8 on Aug 23, 2014
Wonderfuk tool !
mikebratley reviewed v2.0.0.0 on Mar 11, 2014
5 stars awesome
eviljolly reviewed v0.1.0.4 on Aug 2, 2013
Bug with Windows Defender was fixed in one of the versions since 0.1.0.0. Have not noticed any new bugs. Great program, I use it daily.
eviljolly reviewed v0.1.0.0 on Jul 8, 2013
Latest version (0.1.0.0) seems to have broken adding 64 bit versions of Windows Defender Offline. Still 5 stars though.
eviljolly reviewed v0.0.9.8 on Jun 9, 2013
Use it all the time. Great, simple program, with excellent customization options.
holy1661 reviewed v0.0.9.0 on Mar 13, 2013
YUMI-0.0.9.1.exe – March 13, 2013 – Changelog

Update to support Ubuntu 12.04.2 Desktop amd64, Ubuntu 12.04.2 DVD amd64, Edubuntu 12.04.2 amd64, Linux Secure Remix 12.10, (G4L) Ghost for Linux, Backbox 3.0, Debian Live 6.0.7, and Jolicloud 1.2.1.

http://www.pendrivelinux...s/YUMI/YUMI-0.0.9.1.exe
some guy reviewed v0.0.8.0 on Nov 27, 2012
your right FB my mistake I ordered a 16 gig flash drive just for this awesome program :)