File Details

File Size
43.0 MB
License
Freeware
Operating System
Windows 7/8/10/Vista/XP
Date Added
September 28, 2016
Total Downloads
274,906
Publisher
Yahoo! Inc.
Homepage
Yahoo! Messenger
Other Versions
Publisher's Description
Yahoo! Messenger allows you to quickly exchange messages with your online friends. Unlike e-mail, instant messages appear as soon they're sent. By downloading the application to your computer, you can send instant messages. Other features include voice chat, file transfer, mail and stock quote alerts, sports scores, news, and much more.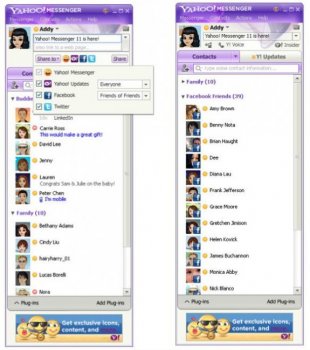 View Full-size
Latest Reviews
SuzzyWoozy reviewed v0.8.155 on Aug 10, 2016
https://help.yahoo.com/kb/SLN26860.html

Older versions of Yahoo Messenger will begin shutting down on August 5, 2016. If you haven't upgraded Yahoo Messenger recently, you're probably using a legacy version. To continue using Yahoo Messenger, please upgrade to the newest version: [...]

The "upgraded version" is that crap web aplication that does not even know to reused the stored First Name+Last Name of the contacts. Now I have to remmeber who is 'crappants2043455'?!?! :(
VictorAnderson reviewed v0.8.155 on Aug 8, 2016
Does anyone even use this stupid thing anymore? Seems like this is headed down the path of AOL messenger and ICQ - all these little chat messenger apps have all be slaughtered by facebook's messenger and skype. Plus now Yahoo is owned by the biggest rip-off cell company in the USA, Verizon - so I doubt we'll see any brilliant innovations here to bring users back., And really - if you're a user keeping your yahoo messenger ID alive - why the hell would you want to use this ad-filled CPU hogging pile of bloatware crap anyway? Just used some 3rd party gizmo like trillian or something..
ZenoLabs reviewed v11.5.0.228 on Jun 1, 2012
YAWN! Time to look at the future, mr. Yahoo!
PatrynXX reviewed v11.5.0.192 on Mar 29, 2012
Latest version they had me download this week really stinks. :( Thought I had this version but said I had to update. And it keeps giving me the signed into to places window. ruining conversations.
Input Overload reviewed v11.5.0.155 on Jan 11, 2012
I did run this messenger last month & was disappointed with it. Nothing like as polished as MSN/Live. Use the fixer with MSN/Live & get rid of the junk you don't want.

http://apatch.org/
SEABOY101 reviewed v11.5.0.152 on Dec 5, 2011
Thanks SteveJohnSteele for the offline installer
HeilNizar reviewed v11.5.0.152 on Dec 1, 2011
Garbage-crape-ad-sh#t-bloated-...-ware
reddy.shyam reviewed v11.5.0.152 on Dec 1, 2011
Something new for a change! Multi tab is a welcome. Thanks Yahoo!
SuzzyWoozy reviewed v11.5.0.152 on Nov 30, 2011
Unfortunately, the only good solution for using the messenger service provided by Yahoo.

Unfortunately, because is a dinosaur
Umapathy reviewed v11.0.0.2014 on Oct 2, 2011
Will you please provide a full download link. This download is an initial download will take long time to download it from Yahoo! to install. Appreciate if someone can provide a direct link. Although I don't like Yahoo! messenger these days but I have to as friends are still in Yahoo! messenger.