File Details

File Size
36.4 MB
License
Shareware, $29.99
Operating System
Windows (All)
Date Added
July 12, 2023
Total Downloads
50,856
Publisher
Inmatrix LTD
Homepage
Zoom Player
Other Versions
Publisher's Description
Zoom Player is a robust media and DVD front-end player. It was designed to be simple at first glance while being remarkably dynamic and flexible when used to its full potential. It works in two modes: a Media mode which can play any file supported by DirectShow (any file which plays in MediaPlayer) and a DVD mode which uses pre-installed DirectShow DVD filters to play DVD content. It supersedes media player in all it's functions and provides several important functions that media player lacks. It provides special zooming functions to improve TV-output quality by eliminating overscan.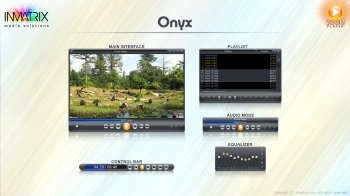 View Full-size
Latest Reviews
CyberDoc999 reviewed v13.7 on Jul 5, 2017
I give it a 2 stars and that is all

see mpc be for the best

also smooth video project for the ultimate
Uriel reviewed v13.0 on Apr 4, 2017
This is awesome software but the pay structure has changed. Regular customers who had paid for the service according to the first payment policy were rudely surprised after upgrading to find that they now had to pay a yearly subscription now. The cost per year isn't worth it for me and I don't trust the one time upgrade deal due to them changing their first payment policy due to them stating that they are living in hard times (Check their message board). It is really good software if you don't mind a yearly subscription but for me there are free alternatives to replace Zoom Player and that is what I have done.
SoundMix reviewed v12.0 on May 24, 2016
Archaic design. Many free programs are easier to use and slicker. Total waste of my money.
CyberDoc999 reviewed v9.2.0 on Jul 30, 2014
it is OK if you have $30 to spend
mikebray reviewed v8.6.1 on Mar 12, 2014
realy good
Raimondas reviewed v8.6.1 on Mar 16, 2013
Not so good media player.
User interface is messy - I can't find anything there.
It plays media files ok, but it could not play AC3 audio track in mkv file (AC3 addon was installed). It could be Windows 8 problem, but if Media player classic home cinema (MPC-HC) plays it fine - I prefer to stay with it.
glassdesigns reviewed v8.5 on Oct 28, 2012
Nothing is better than this for video. Spend the time configuring it to your taste and you will never use anything else. All those options are there for a reason, so take the time to do the setup and never look back. After years of using this program and trying all the others out there, I don't even bother trying the others anymore. That's just a waste of my time. Absolutely nothing has ever come close to Zoom Player
Uriel reviewed v8.1.6 on Apr 19, 2012
This is the best video player on the market. It has an internet radio and internet TV capabilities. It will play CD, DVD, and BlueRay disks as well as every other file downloaded to your desktop. ZoomPlayer also downloads all codec software needed straight from the source to play any video or audio file imaginable through the install center. It's highly customizable. And the default skin is sharp and sleek. And to my surprise when ZoomPlayer was updated to version 8, my license was excepted without paying for an upgrade. I highly recommend this awesome player. It's way better than the free ones but like in most things, you get what you pay for.
Betanoob reviewed v8.1.1 on Mar 20, 2012
Why would anyone pay for DVD player?
$59 WTF you guys smoking? Get a CLUE!
Uriel reviewed v8.00 on Dec 10, 2011
Five stars for the software. Zoom Player still doesn't support 3D video yet. However the software in itself is tremendously awesome and the best there is.

One annoying thing I have to mention about Zoom Player's forum though is that I had to deal with a captcha to register there. After twenty some attempts trying to successfully enter a captcha I gave up. What a waste of time . I hope I won't have to deal with annoying captchas if I ever need contact customer support.

I docked two stars due to the annoying captcha on their website forum.