File Details

File Size
0.7 MB
License
Freeware
Operating System
Windows 2000/XP
Date Added
January 5, 2009
Total Downloads
42,212
Publisher
Arne Seifert
Homepage
aTuner
Publisher's Description
aTuner is a small tool for changing/tweaking settings on your GeForce, Quadro and Radeon graphic cards. Includes Anti-Aliasing (including all unofficial modes), Anisotropic Filtering, VSync, and MipMap LOD Bias.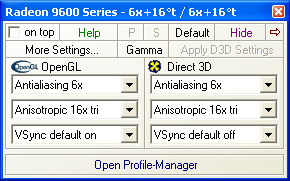 View Full-size
Latest Reviews
Ryusennin reviewed v1.9.83.17792 on Oct 1, 2008
Nice but, really, doesn't hold a candle against ATT.
jafo818 reviewed v1.9.82.17453 on Mar 21, 2008
fatray, nTune is for NVIDIA only... Guess that's all you care about.
bobad reviewed v1.9.68.9702 Beta on Jan 29, 2007
I love the simplicity and no-install by unzipping with 7-Zip. However, it badly needs overclocking.
fatray reviewed v1.9.68.9702 Beta on Jan 29, 2007
This is nice, free all but why use it? nTune does the same thing, looks better and is integrated.
Lenny v reviewed v1.9.67 on Jan 16, 2007
I know a lot of computers, but this programm is very difficult to understand for me. However it ain't for other people.

Had no problems installing it and running it.

Thnx to the advanced features, i'll rate it a 4
horsecharles reviewed v1.9.42.8198 on Feb 8, 2006
No problems on Win98, ME, 2K, 2k3, XP Pro-- to report: outstanding.
gkar reviewed v1.9.37.7803 on Jan 1, 2006
Thanks for the update Arne!
Kramy reviewed v1.9.37.7803 on Dec 31, 2005
It's ok, but I really recommend nV Hard Page SE for nVidia cards. With the built-in previewer, you can really tell if things like 8xAA are worth it considering the performance losses. 4xS AA(not selectable from the nVidia control panel) seems to be nearly identical to 8xAA, and the framerate is between double and quadruple. :P

http://www.guru3d.com/nvhardpage/
gkar reviewed v1.9.34.7803 on Nov 20, 2005
This and Rivatuner make tweaking easy and convenient and a great way to waste bandwidth. :-)
httpd.confused reviewed v1.9.34.7803 on Nov 18, 2005
"waste of bandwidth like the guy said"

Uh... Duh... YOU were the one who made the "bandwidth" comment!