File Details

File Size
33.0 MB
License
Shareware, $14.00
Operating System
Windows 7/8/10/Vista/XP
Date Added
January 31, 2019
Total Downloads
24,204
Publisher
Illustrate
Homepage
dBpowerAMP Music Converter
Publisher's Description
dBpowerAMP Music Converter is a program for converting audio files from one format to another. Part of its formidable arsenal is its ability to rip music straight from Audio CDs or LPs. It can convert to and from Wave, Mp3, and CD Audio (CDA) files.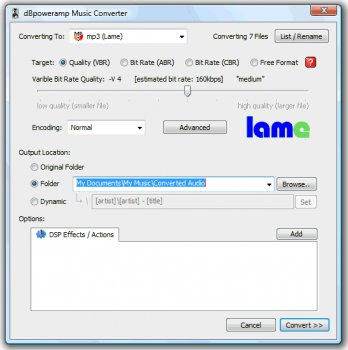 View Full-size
Latest Reviews
rafael77 reviewed v15.0 on Feb 24, 2014
Always found it buggy with mp4 format. Great software though.
Music4Ever reviewed v15.0 on Feb 24, 2014
Best ripper & converter there is bar none, great program - Unfortunately some things in life aren't free & are worth paying for, this is one of them.
jorgosch reviewed v14.2 on Jul 28, 2011
Granted there are freeware apps that do what this program sets out to do, but you will be hard pressed to find all these powerful features anywhere else joined under a single roof. It's a serious alternative for hardcore CD rippers that use EAC but that's only a small part. The tagging and conversion features are excellent and intelligently arranged in an easy-to-use GUI. It even has the latest, hottest feature: SACD/DSDIFF conversion.

No, I don't get paid by them, and if the author reads this feel free to send a copy my way :)
dono1216 reviewed v13.5 on May 20, 2010
use mediacoder audio edition instead. dbp had its moments i.e. when it was free.
ron_marz reviewed v13.5 on May 20, 2010
Ignore the haters; this program is indispensible.
DudeBoyz reviewed v13.2 on Apr 7, 2009
Buggy and awkward with bad licensing policy changes.

Just use Bonk Encoder - it is free and superior in many ways.
keir reviewed v13 on Aug 8, 2008
in the old version I used to set the minimum and maximum bitrate for vbr - don't seem to be able to do it in the new version - trying xrecode. Looking good so far.
newzat reviewed v13 on Aug 7, 2008
I have used this many years ago, when there were not so many alternatives. Today, we have very good alternative freeware encoders/converters. Lately, I have switched from MediaCoder to AIMP2 Audio Converter, which is a part of AIMP2 player. I highly recommend it.
anya reviewed v13 on Aug 6, 2008
If you want convert only, use this: Xrecorde 2.02.
Great and free.
Ian C. reviewed v12.3 on Aug 30, 2007
This is nice if you do tons of converting, especially if you use unusual formats. But if you stick to just the standards, such as wav/mp3/wma/ogg, then WinLame is much smaller and cleaner, not to mention open source.