File Details

File Size
2.5 MB
License
Open Source
Operating System
Windows 2000/9x/Server 2003/XP
Date Added
April 18, 2009
Total Downloads
70,852
Publisher
The eMule Plus Team
Homepage
eMule Plus
Publisher's Description
eMule Plus is a new generation eMule compatible client created to improve the original GUI and to bring you the best experience ever. It doesn't contain any spyware, adware or the like. It's open source and free for life.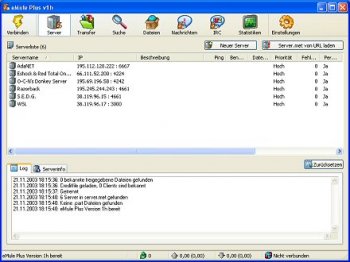 View Full-size
Latest Reviews
Abracontrol reviewed v1.2e on Feb 17, 2010
It was the best emule client years ago, now sadly a proyect almost abandoned (only one active developer) and with no expect to add new features like KAD.
bigmama reviewed v1.2e on Apr 21, 2009
Still no obfuscation and KAD Network.
Give it a try...
LentoMan reviewed v1.2d on May 19, 2008
Finally! eMulePlus has always been the best looking and most userfriendly spin-off client of eMule in my opinion. All that was lacking was Unicode support and with this eMulePlus should certainly be worth another look again.
analphatester reviewed v1.2d on May 19, 2008
WOOOW
new feature
keep searchin histiry
YEAAAAAAAAAAHHHHHH
bigmama reviewed v1.2d on May 19, 2008
Very good p2p program.
Highly recommended.
Original eMule is too bloated
LRN reviewed v1.2d on May 19, 2008
Well, they finally implemented Unicode support. Don't loose hope, there MAY be KAD, etc support in a...uh...year? two years?
Nehemoth reviewed v1.2d on May 19, 2008
Plus my Azz, don't support obfuscation and KAD, I stop using sometime ago.

Great interphase.
Blue Joker reviewed v1.2d on May 19, 2008
They had time to implement Kad feature and protocol obfuscation , they made nothing ,
and it is a sin because this program was very neat back at 1 year ago .
No chances.
Aires reviewed v1.2c on Mar 12, 2008
Stopped using eMule Plus about nearly a year ago. Have swapped to Neomule as eMule Plus lacks Kad and obfuscation. Neomule allows me to connect to more low IDs through my router. I give this 3 stars though as while it's very good, it just no longer cuts the mustard for me.
kmrdeva reviewed v1.2c on Sep 4, 2007
Still no uPNP support?