File Details

File Size
15.5 MB
License
Shareware, $29.95
Operating System
Windows (All)
Date Added
December 18, 2020
Total Downloads
5,654
Publisher
East-Tec
Homepage
east-tec Eraser
Publisher's Description
east-tec Eraser is a privacy protection software that helps you protect your personal data, your offline and online privacy by helping you erase all files that store evidence of your computer and Internet activities. It will help you keep your PC clean by deleting impressive amounts of unnecessary data that is stored on your computer with or without your approval, contributing in this way to improving your computerâ??s performance and security. By using east-tec Eraser as a privacy protection software in your day to day activity, your data will be safe and your offline and online privacy fully protected.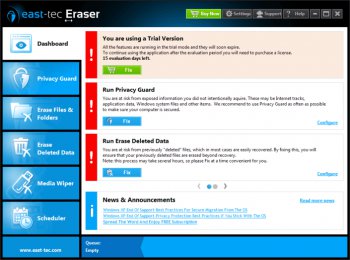 View Full-size
Latest Reviews
Music4Ever reviewed v11.1.2 on Jul 1, 2014
One & half years later the special offer reduction from, $49.95 to $34.95 (Summer Sale Limited Time Offers expires July 31) strangely is still on, if they can't be honest & upfront about the true cost of their software that puts into doubt some of their other claims.

I stand by my original review, CCleaner will do as good a job for free, & the cost of this software is still prohibitive & expensive compared to other pay for cleaners - Also there is PrivaZer, again free or donate $10 for it.
imre31 reviewed v10.1.9 on Feb 27, 2013
Contrary to the opinion of Music4Ever, the coincidence is that I am their customer from 2009 and I saw all the improvements they did to this product, the interface being intuitive even for a beginner. More, they are very prompt each time I require any application which is not supported. Regarding the upgrade price, they have a great discount for customers who want to upgrade. Last time I contacted the support for my key, they told me they prepare a completely rebranded Eraser, I hope that it will be at least as it's now.
Music4Ever reviewed v10.1.9 on Feb 26, 2013
This offers nothing that CCleaner with winapp2 don't unless your really addicted to ladies sites & need to frantically hide it, there are free erasers out there also. There is so much blurb above no room for the reviews!

Reminds me of the scam 'Evidence Eliminator' from days gone by as 'Evidence' is mentioned four times in the blurb. Also very expensive @ $40 for 1 PC a year.

@imre31 - I'm sure it's no coincidence that this is your one & only review - Add to that fact your 'review' sounds very much like an advert for the program - This then leads me to the inevitable conclusion that your are part of the company (person) that produces this software. A company that IMHO also uses borderline scare tactics to get gullible people to buy it at an inflated price ~ (BTW the $39 initial cost is a special reduction from $49)
pjb reviewed v9.9.84.100 on Apr 20, 2011
Although a good app, it's annoying that they don't keep fully up-to-date and support thew latest browsers. With the dev cycle speeding up these days, this is a must. They refuse to support any browser other than released! Strange when things like firefox nightly etc don't use different paths..
pjb reviewed v9.9.0.100 on Sep 11, 2010
According to the change log it supports Firefox 4 Beta - I am running 4 beta 5 and it does not recognise it as installed! - other than that still a good app for what it does. - 1 star for no Firefox 4 beta support!

Change Log: New and updated sensitive areas in Privacy Guard: Mozilla Firefox 4 Beta, Mozilla Firefox 3, Internet Explorer, Google Toolbar, DivX Plus Player, Windows Live Mail, Skype 5 Beta, MSN Messenger, avast! Home Edition and more.
pjb reviewed v8.9.4.100 on Aug 12, 2008
Finally the got the update for Firefox 3. Better later than never!
Biggo reviewed v8.9.3.100 on Jul 30, 2008
Still no update for Firefox 3!!!!
pjb reviewed v8.9.3.100 on Jul 10, 2008
The product remains good.
The support has gone down hill.
The developers need to move up a gear! They just don't seem to put an effort into def files for the latest products. To-date they still have not done anything for Firefox 3! some 23 days after release!
CCleaner developers on the other hand seem more on the ball, and even supported the cleaning of Firefox 3 well before release! - Good on their team.
pjb reviewed v8.9.0.103 on Mar 26, 2008
Continues to improve with each build. They added some new system alert thing, which could be ok for some users, however not everyones cup of tea! At least there is a easy way to disable that feature should you decide not to use it.

I would have preferred an option to choose weather to install that component or not during the initial install.
pjb reviewed v8.0 on Dec 17, 2006
I am currently using build 8.0.0.240, and have found it works really well. Apart from some cosmetic changes to the UI it seems the same as Cyberscrub - However East-Tec Eraser seems more up-to-date with the programmes that are out there, the updates are more readily accessible, and according to other reviews I have read their support seems better.