File Details

File Size
3.5 MB
License
Freeware
Operating System
Windows (All)
Date Added
October 16, 2007
Total Downloads
33,296
Publisher
iMesh Light
Homepage
iMesh Light
Publisher's Description
iMesh Light is a spyware clean and free version of the file sharing client iMesh. It uses all the same features that iMesh includes but adds many more new and convenient features. You can search simultaneously on other file-sharing networks such as Fasttrack, Gnutella, G2, eDonkey and in the future the new iMesh network. This will give you more files, more sources, faster downloads and rare files.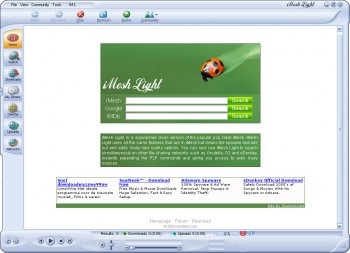 View Full-size
Latest Reviews
sooti reviewed v5.0.2 on Nov 2, 2007
very slow connection, speeds are quite slow even for gnutella... i suggest getting the old version of bearshare pro 5 before they became legal... works great for me for getting mp3 singles
darkripper reviewed v5.0.2 on Oct 17, 2007
1 just for kazaa
Nikkie reviewed v5.0.1.3 Build 3 on Jun 20, 2005
try their latest program ''peanuts'' http://www.im-l.com/

Peanuts is another gift frontend like kceasy . Its built like kceasy but the dev. wants to put his touch on his own front end . we will see what he comes up with in the future ...
littlebits reviewed v5.0.1.3 Build 3 on Apr 12, 2005
No spyware or adware like the official version has, and run a little better than the official version did but still has the same basic problems.The program itself is very bulky,takes almost 4 minutes to startup, uses a lot of CPU about 90% even when it is not connected. Very difficult to get the program to connect and the search results are usually blacked out. You have to restart the program to fix the problem then it will eventually come back again. Many failed downloads from the Gnutella Networks. You might be able to get a complete download 1 out of every 5 attempts. Program is very slow and not very Windows friendly. It tends to lock up with having to end process with the task manager. However it did not delete my system32 files after the first reboot like the official version did. This program like the official version is also a piece of JUNK.
thedax reviewed v5.0.1.3 Build 3 on Apr 12, 2005
The program works, but hacks the Windows installation. It cost me three total reinstallations of the OS to understand what was wrong, but now I know. Have a look at the bottom of this page: http://www.kellys-korner...m/xp_haldll_missing.htm

No program in the world should tamper with the OS files. I wish there was a negative rating.
glassdesigns reviewed v5.0.1.3 Build 3 on Mar 21, 2005
It's eating up all my resources on an AMD 64 3000+ with 1 gig of ram. Fix this and you have something.
Nikkie reviewed v5.0.1.2 on Feb 20, 2005
It has potential . It was a bit slow on my system but i am running a 500 mhz . maybe if they have an option where i can take the skin function off and just go barebone .. it may be less resources for me .

thats besides the point .

the program didnt turn up any search results but it was a very nice program . it was stable and was setup nicely . it is very clean .

I see good things for this in this future . it will be right next to our favorite p2p programs .
malcolmsuperstar reviewed v5.0.0 Beta RC4 on Jan 11, 2005
whenever you see all yellow bars and unbeleivable ratings, you know its rig by those who have no clue in beta teesting or its the developers who are boosting their ratings under alias names. Those who takes beta testing seriously can tell you that everyone as a different opinion and diffirent score ratings, even if it was the best program, this program sux and as sucked for a long time. the first generation of imesh was the best from version 1 to version 2.4. do not get this version as it is full f crap and is not stable for xp. the regular full version is worse. use shareaza or kazaa lite ressurection as they don't have ad-ware or spyware.
Kairon_156 reviewed v5.0.0 Beta RC4 on Jan 9, 2005
I have ben with iMesh Light from the start and it's come a long way from the first version. this is one of the best p2p/share programs I have ever used. I hope the programer that made this wonderfull iMesh Light contunes to make it better... if that's possable :) I'm going to contune to use this program tell eather there's an iMesh Light V6.0.0 or tell computers become too old to use the internet. (100 years+ I mean) I realy love the personal features that are here but there are some old things that the programer got rid of that I would like to see back like the 50%, 100%, 200%, fit window, and fullscrean. I liked that feature but I guess it's not realy needed. I give this a 5/5 only because I can't give it a higher rateing.
PS: I have read one comment about how there were install problems. I think that the Programmer fixed it a long time ago. I haven't hade any problems with Compatabilitty. :P I hope that people try this program for there self even if it's just for a week. it's worth the try.
windowsxphome2005 reviewed v5.0.0 Beta RC4 on Jan 8, 2005
Replied to:soundsys4u

I got the updated version of iMesh because the eDonkey servers don't dork, and it works fine for me. But I JUST HATE POP-UP ADS!!!!! At some point, I get a pop-up. It's odd that the ads are from Cydoor. That company is adware. Be Careful when removing.

Here's a link to the updated version. You'll like it.

Botton Line: Mine is different.. Mine is kind of the same, but there are some changes to it. It doesn't have the iMesh Lite Logo, and they removed the eDonkey Servers because of complaints of the fact that the servers never got their files downloaded. The link below is the newest, most updated version.

http://download.imesh.com/files/iMeshV5.exe

Good Luck!