File Details

File Size
11.3 MB
License
Open Source
Operating System
Windows 2000/Server 2003/XP
Date Added
August 26, 2009
Total Downloads
6,502
Publisher
lphant Team
Homepage
lphant
Publisher's Description
lphant is an eDonkey client written in c# using the .NET framework. The Kernel will be a separate .NET object (dll), thus Interface and Kernel separate code will allow remote controlling, running as a service, custom interfaces, and will allow other developers to make easily new eDonkey clients using any programming language supported by .NET without having to implement the eDonkey protocol, simply by using the lPhant .NET Kernel object. A Complete interface will be developed and a simpler one written in visual basic to use by other developers as a sample.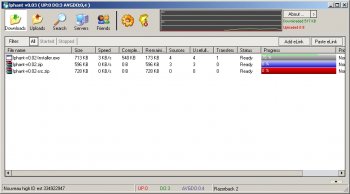 View Full-size
Latest Reviews
HotBlack77 reviewed v3.50 on Dec 1, 2007
While not spyware this is still adware.
hilfer reviewed v3.50 Beta 1 on Oct 18, 2007
working fine here in spite of the TS my ISP has been making.
maria_madonna reviewed v3.02 on Jul 11, 2007
You can avoid spyware but not the ads of the program.

Nice alternative of eMule but its a system hog

Use eMule Plus the best edonkey2000 network client
vesser reviewed v3.00 Beta 5 on Jan 2, 2007
The Spyware is installed only if you are a noob and select it when you install...
Else only a little banner in the program and ad when you start and close
scoot reviewed v3.00 Beta 2 on Oct 25, 2006
Wouldn't Open source licence suggest that the source code is available? I don't see any such suggestion of it on their website.
koloraro reviewed v3.00 Beta 1 on Oct 20, 2006
SPYWARE FRIEND SOFTWARE, just be careful.
stopbuggingme reviewed v2.00 on Apr 29, 2006
The best veryfast!!!!
Metshrine reviewed v2.00 Beta 3 on Mar 18, 2006
To the user below, let a user post in whatever language they want, until the site says on the homepage "ENGLISH ONLY", your comment is void of any meaning or legitimacy
gruiiik reviewed v2.00 Beta 3 on Mar 18, 2006
To LePetitCrack: this is an all english site, so please stop writting in french.

For this software: Having more than one software that you could choose to do a given task is always better for the evolution of these software, but after a little test, i will definitly stick to emule .
ghammer reviewed v1.10 on Oct 16, 2005
A good app done in by adware.
Too bad, it had such promise.