File Details

File Size
0.3 MB
License
Freeware
Operating System
Windows (All)
Date Added
January 20, 2020
Total Downloads
227,157
Publisher
Martin Pesch
Homepage
mp3DirectCut
Publisher's Description
mp3DirectCut is a small tool for editing mpeg audio directly. You can remove parts, change the volume, split files or copy regions to new files. All without the need to decompress your mp3 into pcm/wav. This saves work, encoding time and disk space. And there is no quality loss through any re-compressions.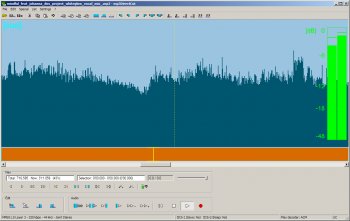 View Full-size
Latest Reviews
Antichrist reviewed v2.20 on Apr 8, 2014
Great program, I still use it to do fadeouts on mixes i put together, but it does have one problem: It won't cut mp3s from cuesheets correctly to make them perfectly gapless. For that the only program that I've found which DOES do it correctly, but which isn't nearly as user friendly, is Pcutmp3: http://wiki.themixingbowl.org/Pcutmp3 . If you know what I'm talking about you're going to have to do some Googling for more info.
olivergiving reviewed v2.19 on Sep 25, 2013
awesome!
Music4Ever reviewed v2.19 on Apr 26, 2013
A most usefully program, small & no ad-ware.
bigspud reviewed v2.16 on Aug 2, 2012
when doing batch operation for volume boost, it cant do subfolders, otherwise it would be perfect.
brotherS reviewed v2.13 on Nov 17, 2011
Maybe not the most beautiful piece of software out there, but very stable and just a pleasure to use, once you know where all the options are. Thanks!
Simply awesome.

That would be nice to have a similar WAV utility, alas, I have to use full featured applications like Audacity.
WindsurferLA reviewed v2.12 on Oct 7, 2010
I've used mp3DirectCut to convert numerous vinyl recordings to mp3 format. To help me remember how to locate features, I put together an informal manual. For those so interested, it can be found at:
http://www.larents.biz/M...3DirectCutOperation.doc

Inasmuch as the manual was composed several years ago for Version 2.0, there may be some discrepancies with the present version.
earthgirl reviewed v2.12 on Sep 19, 2010
it is really a good soft ware, like itransferstudio,which can < href="http://www.itransferstudio.com">transfer ipod whenever and whatever.
goood
TGB72 reviewed v2.10 on Jan 12, 2009
The vbr inaccuracy is fixed! Now cuts based on cue sheets are perfect. Thanks to the author.
The only issue that remains regarding to vbr cutting is that MDC doesn't update the lame info in the output files (pcutmp3 can do this).