File Details

File Size
14.0 MB
License
Adware
Operating System
Windows 7/8/Vista/XP
Date Added
February 18, 2021
Total Downloads
34,021
Publisher
ooVoo LLC
Homepage
ooVoo
Other Versions
Publisher's Description
ooVoo is a free instant messaging and video call app supported on Android, iOS, Windows and macOS. ooVoo's Chains is a community driven platform that allows you to create unique contents and share with a large group of unified creators. The app with it's cutting-edge technology supports uninterrupted HD video calling with upto 8 people simultaneously from anywhere around the world even with LTE network.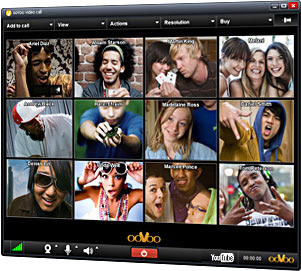 View Full-size
Latest Reviews
nobita31 reviewed v3.0.11.47 on Sep 8, 2021
It's a nice software for video calling in the windows. also available in android. i found it very satisfying with no issues. .
jiofisagul reviewed v3.0.11.47 on Jul 8, 2021
Try this app on your device and share your review.
Someone reviewed v7.0.4.3 on Feb 18, 2021
it was a good software but you have to choose a new one now
Someone reviewed v7.0.4.3 on Nov 27, 2020
I don't mind that they try to push premium pay services, and the free version is one of the very few choices for cross-platform video calls, much less cross-platform plus 3-way. Hats off to them for that.
Mr Swiffer reviewed v3.0.4.38 on May 19, 2011
This is the greatest video chat software ever invented. I haven't tried the Windows version yet, but on Android this is the only app that supports the Dell Streak 5's front facing camera. The Windows software can't be much worse than the Android version and it's not that hard to add support for a front facing camera in a video chat app under Froyo or Eclair. It's just as easy as it is in Gingerbread.
Sadly disappointed with the prog. The ads (which are hideous) add insult to injury.
VictorAnderson reviewed v2.9.0.43 Beta on Aug 23, 2010
I used to give this 5 starts - now if I could give it zero I would but guess the lowest I can go is a 1.

What it boils down too is the ad's are ridiculous. It's such a shame too. When ooVoo first came out I thought it was the best because the streaming audio/video worked better than any other videochat program I'd ever used. Now it's just a bunch of banner ads wrapped around a program! Like what the hell ooVoo!?!?

If they ever decide to give a crap about their users - I'll be back - but until then guess it's back to skype (along with all their other users no doubt)
CyberDoc999 reviewed v2.8.0.39 on Jul 17, 2010
tons of ads
and one of the ads gave me a fake anit-virus
ooVoo is the worst of the worst!
better to use Skype
SteveJohnSteele reviewed v2.8.0.37 on Jun 23, 2010
The program itself is fair - 3 stars

HOWEVER - I would gladly give this ZERO stars

Many of the adverts are from companies that routinely lie
eg "[Google mail logo] You have a new message ..." clicking on it take user to a website (nothing to do with Google) with a competition to win an iPad

I have written a strong email to customer services
"While I appreciate your software is financed by the revenue from adverts - the least you can do, is embed advert from companies that don't lie or misrepresent themselves."

and as alexsch8 states opens a door to all manor of horrors.

I will be staying away until they either remove the adverts (for free) or clean them up.
alexsch8 reviewed v2.7.0.65 on May 16, 2010
The free version of ooVoo is actually a virus distribution system via the online ads it displays. Be warned!

We were using at the office as a trial and two laptops got hosed with fake anti-virus trojans. Yes, of course we could have patched Flash but nonetheless, why even bother exposing yourself to that.