File Details

File Size
4.5 MB
License
Freeware
Operating System
Windows XP
Date Added
December 6, 2005
Total Downloads
341,485
Publisher
ratDVD
Homepage
ratDVD
Publisher's Description
ratDVD takes a full featured DVD movie and puts it into a highly compressed .ratDVD container format file of about 1.x GB in size - while preserving all the features of the original DVD such as: Full anamorphic picture, seamless branching, multiple video angles, multiple audio channels, subpictures, etc.; Keep movie versions (Directors Cut, Theatrical version, etc.), Alternate story endings, making of, video commentary , cut scenes, etc.; Keep complete menus, navigation and features; Reliable high quality, valid check-summed container.
You can also convert a .ratDVD file back to DVD format, burn it to a DVDR and watch the movie using a regular DVD player. It does not support copy protected media directly but it allows to use decrypted content (e.g. from DVD Decrypter, AnyDVD, etc.).
You can directly play back the .ratDVD file - with all the options the original DVD movie would give you. Just by double clicking without the hassle of having to handle different files or the need to use special programs.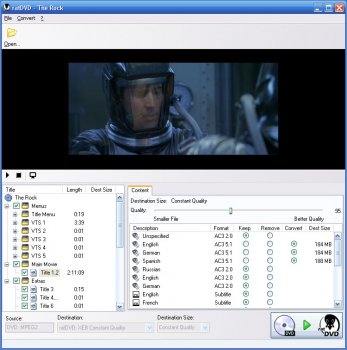 View Full-size
Latest Reviews
dellvostro1400 reviewed v0.78.1444 on Oct 3, 2009
gracias gracias gracias
Overdive2385 reviewed v0.78.1444 on Feb 3, 2009
Ok, a lot of you seem to misunderstand the purpose of this program. It is a "Wrapper" with the ability to take an entire 9gig dvd and compress it down to a mere fraction of it's size WITHOUT any loss in quality. This program does this very well. If you merely want to shrink the video for putting video on cd or whatever then yes, please use divx. if you are looking to preserve an entire dvd without audio/video quality loss then I dare you to try to do that with divx and get the same quality for the size. The only reason you can play ratdvd on computer is because the dvd is unwrapped(decompressed) temporarily. Oh, and by the way. not only does it make a neat and tidy archiving utility, it makes entire dvd's ultra portable so that you can fit 3-4 dvd's in their entirety on a 4gig usb jump drive. I dare you to try that with Divx. I am by no means bashing Divx as it has it's uses, but comparing this program to Divx is comparing apples and oranges. This program does what it is supposed to do and does it well.
dudeman456 reviewed v0.78.1444 on Jun 10, 2006
Re:wingo's comment

You mean like Divx 6, that in one file you can have menus, and a movie, just like a dvd. It more supported than ratdvd as well.
KAK reviewed v0.78.1444 on Jun 6, 2006
Good idea!

Good compression size of container file!

PLZ optimize the unpacking routine!

BEST REGARDS : KAK
wingo reviewed v0.78.1444 on Dec 7, 2005
re: jose comment.

it doesn't matter if any other compression is better than ratDVD if they aren't portable 1 file. this is the simple reason they do this program, it IS NOT intended for jose who only wants the movie.

i still find this usefull for some projects.

i'm surprised that noone just steal the ratDVD idea 1 file (divx-xvid/whatever) with extras and everything.
Jose reviewed v0.77.1509 on Nov 27, 2005
Don't waste your time. As an earlier user mentions you get better results in a tighter package with xvid codecs. You may not get the dvd extras but then again it's the movie you want anyway.

4 hours to down sample is a pain for the end result.

Right no in ISO mode I can burn about 6, or 7 high quality xvid full movies, almost indistinguishable from dvd quality when done right,on a dvd-r,and playback with a Divx capable dvd player.

Much more usable for what most people want to do. If you really need the extras ratdvd will do, but only just considering what you're giving up.

When dvd players start supporting this format, which may be why they chose the proprietary route to begin with, AND the quality of the video matches or excedes that of a quality Divx encode, I'll give it a thumbs up.
kevinsanz reviewed v0.77.1509 on Nov 6, 2005
this is great someone should make a forum with links to their ratdvd's or we could make a group on grouper. 5+++ but the encondeing take 4-6 hours
yokozuna reviewed v0.77.1509 on Oct 19, 2005
As I already wrote - the idea is great, but the execution of the idea is so-so. Something is wrong if the encoding lasts almost 4 hours (Athlon 4200, 2 gigs RAM, Win XP SP2) and the playback is choppy sometimes. By contrast, even high resolution x264 files are played back flawlessly. I cannot understand why ratDVD uses proprietary codecs, if x264 (or XviD) and Ogg Vorbis could be used instead, with much better results.
picketf reviewed v0.77.1506 on Oct 13, 2005
Converted one DVD to ratDVD flawless. Attempted to convert it back and at the end (after 4 hours conversion) it gives me a error message "catastrophic error" and exits. That pretty much sums it up.
GRiT2005 reviewed v0.77.1506 on Oct 1, 2005
Movie Title Converted: The Pacifier (Movie Only).
The Movie Source: DVD (Original).
Original Size: 4.35GB.
Compressed Size: 834MB.
Extracted Size: 3.14GB.
Visual Quality Prior to Conversion: 10 out of 10.
Visual Quality After Conversion: 7 out of 10.
Visual Quality After Extraction: 7 out of 10.
Sound Quality Consistent: 10 out of 10.

Process Used:

Nero Recode was used to Transcode the main title to the target size for a DVD at 4.35GB. RatDVD was then used to convert the film to its own compressed format, the only option selected that differed from the default, was that "Constant Average Bit Rate" was selected instead of "Constant Quality". I did this as I figured that the playback in its compressed state would be smoother.

Conclusion:

Notes some video quality is lost in the conversion process to the RatDVD container file format, and is not regained when extracting the Movie back to its original format. There is some colour flickering, where light shifts in a scene, and an overall loss of definition where the camera is not focused, i.e. the foreground maintains better definition then the background. Also on converting the Rat container file back to MPEG 2, the movie ends up smaller in size then it was originally.
Better results than I achieved may be possible if the movie was taken directly from the source instead of Recode being used first, and if Constant Quality was selected instead of Constant Average Bit Rate.

Pros:

1. It is space saving allowing you to keep many films on your hard drive.
2. You can compress this still further with a compression utility like WinRar, and it will still extract and playback (not verified all the way through just limited playback and an MD5 checksum performed before and after).
3. For transferring files over the Net a program like WinRar, can break the file up into many pieces and password protect them easily (compression here takes about 40 minutes).
4. You can still watch your movies in there compressed state.
5. You can add all the details about the film you like, with clear sections for entering the text, and you can add a jpeg of your choosing, that will displayed within Windows showing you clearly what film it is at a glance. Also you can connect to the Internet to download profiles created by other people, and in nearly every case you can get all of the film statistics, and the films cover as a jpeg added to your file in seconds.
6. A utility called Rat attack has been unofficially released that provides you with three extra tools, Rat Check, Rat Batch, and Rat CSS. Rat Check allows you to test your RatDVD files to make sure they are intact, Rat Batch allows you to select multiple films from a Hard Drive and convert all of them with RatDVD to a specified location, and Rat CSS allows you to take movies straight from CSS encrypted DVD discs.

Cons:

1. It is a very time consuming process converting to and from RatDVD container files, about 4 hours each way, or twice as long as it would take to watch the movie.
2. There is a loss in picture quality (although the movie is still watch able).
3. Earlier versions of RatDVD did not convert movies as well as the more recent releases, bugs included choppy or unreliable playback when the movie was in RatDVD container format.
4. Current bugs can include loosing a few frames of the start of a movie when played back in container format, and having to give the progress bar in Windows Media Player a nudge forward to get the movie to start.
5. In container format there are chapters but Windows Media Player can't use them, and also you can't skip forward or backward in a movie, although you can do all of this, if you play it back in RatDVD and just full screen it.
6. Lastly RatDVD does not notify you accurately as to whether your movie has been corrupted during the conversion process, only telling you that its task has been completed successfully regardless, unless the program crashes.