File Details

File Size
7.8 MB
License
Open Source
Operating System
Windows (All)
Date Added
July 10, 2012
Total Downloads
11,974
Publisher
Jason Horman
Homepage
wikidPad
Publisher's Description
WikidPad is a wiki-like notebook for storing your thoughts, ideas, todo lists, contacts, or anything else you can think of to write down. What makes it different from other notepad applications is the ease with which you can cross-link your information. Links in a wiki are created by typing in WikiWords. A WikiWord is any case word (also called CamelCase) typed into the editor. TodoList or JohnDoe are example WikiWords. The term wiki means "quick" in Hawaiian, and wikis are all about quickly linking your information together. Wikis are not a new concept, in fact there are many web based wiki servers available.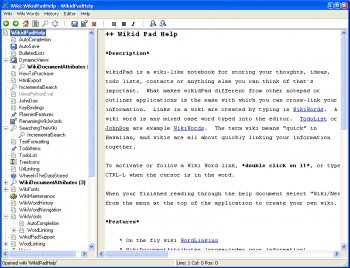 View Full-size
Latest Reviews
AnthonySPT reviewed v1.9 Beta 20 on Dec 16, 2008
This reminds me of an extremely light version of Microsoft OneNote or a couple of DOS era applications for stacking notes and topics of various data.

It is free, so that is a plus, and it is handy.

However, if you can afford OneNote (student edition is very cheap), get it instead, as you get a lot more features from integrated OS level searching to even Voice or Handwritten (ink) notes.

OneNote is one of the MS Office applications that really doesn't get enough accolades, which is a crime because a lot of people would find it to be a lifesaver for storing everything from web receipts and screenshots to even using it to outline your next great project or novel.
Ain Soph Aur reviewed v1.9 Beta 19 on Nov 15, 2008
really a cool software but i have problems using it :-/

its very hard to start...

there should be a short how-to. not ONLY this endless documentation
mikeeberhart reviewed v1.9 Beta 13 on Nov 29, 2007
This software has potential (why I gave it a 3 instead of a 2), but potential alone is not enough to overcome what I see as some huge shortcomings:

1) it is anything but intuitive. I really wanted to like it and use it, but I am really struggling to even get my simplest Wiki organized.

2) because of #1, I can not determine what is a "bug" and what is a "feature". I think I am using the software properly, and if so, it definitely has some bugs / issues. For example, on the "View" menu, I TRY to use the "show doc structure" option, but it apparently does nothing (ditto with "show time view"). Is there some particular context under which this stuff works? If it doesn't do anything (all or part of time), why show the option? Inconsistencies like this made evaluating the software nearly impossible.

3) help is less than helpful. Sure, there is a somewhat detailed section on "features", but how about a simple "getting started" section that helps you figure out how to effectively use the software. Features mean nothing if you can not even get past the most basic operations.

4) Perhaps it is a Python on Windows shortcoming, but why can I not use my 5-button Intellimouse "back" button by default (to navigate "backwards") like I can in FireFox, IE, and so many other applications? There must be a way to make this work, and though it seems like a small thing, it becomes a large PITA when the app doesn't respond as expected and I have to learn a new set of shortcuts or click a form-button instead.

I could go on, but I am really hoping for an improved version of the software. Maybe it is just "beta bugs" I keep hitting that are preventing me from finding this software useful.
newmote reviewed v1.9 Beta 13 on Nov 28, 2007
Wiki's the first thing I "launchy" (google it here). Takes a whole SMIDGEN of time to learn but it's your whole life in a notepad. Images, urls, recipes, phone numbers, text, code, all fully searchable by keyword .. your life is in that Wiki. It's a web representation OF your life.

I've not checked out this new update so I probably shouldn't be writing but there IS a learning curve with Wikipad. Just like with anything else important in life. I don't consider this a CON but .. there's just too much stuff in it to even learn. I get by with just knowing the bare basics but when I get to work ..

right after Outlook it's the first thing that opens up for the day.
mikeyx11 reviewed v1.9 Beta 12 on Nov 1, 2007
To thehunger:

If Tomboy notepad is "infamous", why the hell would anyone want to use it??
DaWolfey reviewed v1.9 Beta 4 on Apr 27, 2007
Once you get used to the way this works (and it is a little strange) and it all clicks together in your mind, I can guarantee you will find this to be the most efficient note taking / loose document maker you'll ever use.

Sure there are a few bugs and some kinks to work out, but it works and it's pretty stable.

Don't just dismiss this prog after using it for 2 minutes, give it a few days.
thehunger reviewed v1.9 Beta 3 on Apr 3, 2007
Interesting.
Of course, there's also the infamous Tomboy notepad. Originally available on Linux, it has become very popular and part of the GNOME Desktop.

However, since it is an application written for Mono (the .NET implementation for Linux), it is cross plattform and recently became available for Windows.

Check it out here:
http://live.gnome.org/Tomboy/Win32

The current version still requires Mono (instead of just running on Windows .NET) but is already a great application.
Stingray57 reviewed v1.9 Beta 2 on Feb 27, 2007
I like the GUI and it looks like it's running a SQLLite DB which is fine.

I would rather type in presentation mode as to the Edit/Preview mode offered. There's no image pasting; kind of a bummer.

I liked the export options, some programs I have seen don't offer export options and thats a real issue for me. I don't want to be locked in to a application because it's inflexible.

I am user of Keynote 1.65 and I still love it, but I am searching for a good alternative; this has caught my eye and I will be watching it.

Over all - good deal.
arfer reviewed v1.8 RC1 on Jan 25, 2007
It's getting stabler and stabler. I export to html extensively, it works. Saves you time structuring documents, when you just want to write!

Has a great minimalist-looking output, and supports customized html generation via css stylesheets.

Wikidpad is sweet, and it's getting better!
taxis reviewed v1.8 Beta 6 on Dec 28, 2006
Not perfect (yet), but a great task: To help structuring personal knowledge like Wikipedia helps structuring global knowledge.

@drhy: "Make this program network-aware."
Of course it would be great, if friends or colleagues could share their notes; but in order to be faithful to each colleague's work, a much stricter separation of content with respect to authorship seems necessary; and I don't know of a way to do so without greatly obscuring the current simplicity of editing.